Check out our photo gallery below.
More than six hundred students, their families, friends, and alumni gathered on Sunday, May 19, for Stonehill's 68th Commencement ceremony!
The ceremony's keynote speaker was Heather Abbott '96, founder of the Heather Abbott Foundation, which "pays it forward" — to provide amputees like Abbott with the kind of customized prostheses that help them return to the lives they love.
Overcoming Adversity
Through the loss of her leg and much of her hearing on Marathon Monday in 2013, Heather Abbott '96 learned much about how to overcome adversity.
Recognizing that "no matter how much planning and preparing you may do, life is just simply unpredictable," she sought to share her hard-learned keys to success with the Class of 2019.
Those three keys: Focus on the future rather than dwelling on the past; Allow yourself to rely on others for support; and Make sure you pay it forward.
"Know that you can learn from adversity and that turning lemons into lemonade is possible," added Abbott. "With that advice and of course, your Stonehill College degree, there's nothing stopping you from writing the next chapter of your life with optimism, kindness and success, as you see it."
You can read Abbott's full remarks, here, and learn more about her through her citation, here.
Honorary Skyhawks
Along with Abbott, the College honored Rev. Thomas J. O'Hara, C.S.C and Dr. Carolyn Y. Woo.
Fr. Thomas O'Hara
Fr. Thomas O'Hara is the former president of King's College in Wilkes Barre, PA, and a former provincial superior of the United States Province of the Congregation of Holy Cross. Upon stepping down as provincial superior in 2018, he used his sabbatical to assist the Congregation of Holy Cross in Chile and in Rome, as well as in Lourdes as Chaplain to English speaking pilgrims. He now works at King's College with at-risk students, helping them to meet the challenges of college life.
Learn more about O'Hara though his citation, here.
Dr. Carolyn Woo
In 2016, Woo gave the André Lecture at Stonehill. In her remarks, she explored climate change in the context of the papal encyclical Laudato Si: On the Care of our Common Home. In addition, she spoke of how we are stewards of creation and that caring for the environment also means caring for each other, especially the poor and the vulnerable.
To learn more about Woo through her citation, click here.
Leading with Love
Class speaker Pierrce Holmes '19 reflected on the road to and through Stonehill, and on what makes the Class of 2019 so special.
"There's so many little moments that I think helped pull us all together in different ways," said Holmes. "But I think there is a common theme that links all of these struggles, highs, lows, and fond memories together: Love."
---
"We encompass so many different groups of people as individuals. We are first generation college students, we are foreign students, we are working or commuter students, we are minority students, we are LGBTQ students, we are athletes, dancers, singers, actors, artists, scientists, business folks, religious students, students with disabilities, and everything in between. But today, we all identify as one thing, college graduates." – Pierrce Holmes '19
---
In deep appreciation for the College community his fellow classmates, Holmes reminisced on the moments, big and small, that showed the empathy and understanding of this year's graduating class.
"And so as we close this chapter in our lives, I hope that we write every page after this with the utmost love," shared Holmes. "But also, never lose the ability to love yourself."
Read Holmes' full speech here.
Prioritizing Wellness
Senior class president Rebecca Merkel '19 and vice president Michael Everett '19 represented their fellow graduates by presenting the class gift to the College, a whopping $10,260 raised to the College's Wellness Initiative Fund. The fund aims to further develop and enhance the mental health resources available to students on our campus.
---
"We know from our own experiences that mental health challenges and issues directly shape the choices we make, the quality of our lives, and the relationships we build with others. If we are to develop as students and alumni who think, act, and lead with courage; we need access to adequate mental health resources and the College must provide them." – Rebecca Merkel '19.
---
"As members of the Class of 2019, we chose to contribute to the Wellness Initiative Fund because it is the right and compassionate thing to do," said Merkel. "And we also believe it will lead to the creation of a more just and compassionate world."
Alumni Welcome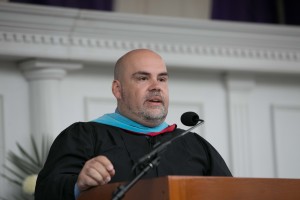 Steven Viveiros '98, president of the College's Alumni Council, welcomed the Class of 2019 to Stonehill's 27,000 member strong Alumni Association. Viveiros asked students to keep in touch with the College, and remember the impact Stonehill has had on their lives and their future.
"You are now the outward sign of what a Stonehill education produces. Respect that, honor that, treasure that, and always remember these roots," said Viveiros. "Be proud of your time on the Hill, share it with others in your future, and think about how you can pay it forward to other future Stonehill students who will one day walk these halls."
Read Viveiros' full speech here.
Revolution of Tenderness
In his remarks, President Denning, C.S.C. highlighted the notion of a "revolution of tenderness," identified by Pope Francis in a recent TED Talk:
---
"Tenderness means to use our hands and our heart to comfort the other—to take care of those in need. It is the path of choice for the strongest, most courageous men and women. Tenderness is not weakness, it is fortitude. It is the path of solidarity, the path of humility." – Pope Francis
---
"It is my extraordinary good fortune to know so many members of our graduating class. I have witnessed your own growth in maturity, knowledge, experience, and confidence," praised Fr. Denning.
Read Fr. John's full speech here.
Watch the Whole Ceremony!
Commencement Facts and Figures
Class of 2019 Latin Honors
Summa Cum Laude (3.90 or above GPA): 31
Magna Cum Laude (3.70 – 3.89 GPA): 77
Cum Laude (3.50 - 3.69 GPA): 104
571 students will be earning their degrees on Sunday, with 18 of those students earning double degrees.
Bachelor of Arts degrees: 278
Bachelor of Science degrees: 88
Bachelor of Science in Business Administration degrees: 142
602 students participated in Commencement (including those who either earned their degree in September 2018 or December 2018, plan to complete their degree in September 2019, or are completing their first year at Notre Dame through the dual-degree program).
Photo Snapshots
Want to see more Commencement 2019 photos? Check out our Family Fun Snapshot, our Stonehill Smiles Snapshot, and our Fashion Forward Snapshot.