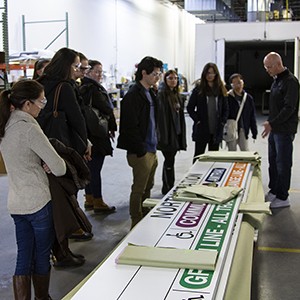 Stonehill student groups regularly connect students with the types of opportunities that will broaden their horizons after graduation. Recently, a student club for design majors organized a site visit to a local design company to learn more about different branches of design.
AIGA, Stonehill's branch of the American Institute of Graphic Arts professional organization for designers and students, arranged for nine students to visit Design Communications Ltd. (DCL), an award-winning fabricator of architectural specialties – including custom signage, rebranding, wayfinding and themed entertainment.
"The mission of (AIGA) is to increase the exposure and connection of graphic design students to professionals in and around the Boston area," said Cristy Morgan, assistant professor of graphic design and AIGA faculty advisor. "It gives students the opportunity to be involved as well as create community and leadership skills within the professional industry that they are aspiring to enter."
DCL, based in Avon, Massachusetts, is engaged in a brand of design called experiential (or environmental) graphic design. It's multidisciplinary in that it brings together architects, engineers, carpenters and graphic designers, among others. Students say that, before the visit, they didn't realize how heavily graphic designers fit into the manufacturing industry.
"It was interesting to learn that although DCL does do all the manufacturing aspects of the design, graphic designers are some of their most important employees," said Sarah Stueve '20, a graphic design major from Peabody, Massachusetts. "This field trip opened up our eyes to a new world of opportunities for designers we had no idea even existed."
Morgan says these types of site visits are important because students gain a more robust understanding of the material they learn in the classroom by seeing how these skills will directly apply to their professions.
"Our students leave the program with skills to move their career forward in any direction," said Morgan. "It is about bringing the many different facets of the industry to life by getting out and actually seeing the work — how it is thought of, created, planned and then produced – it engages and excites them."
While at DCL, students looked at simple and more complex examples of how graphic design is all around us: from transportation to athletics to retail. It helped students realize that design is bigger than they originally thought.
"Without design, we wouldn't know where to go, how to get there or what to do," said Stueve. "I have a new admiration for the field I have decided to go into."