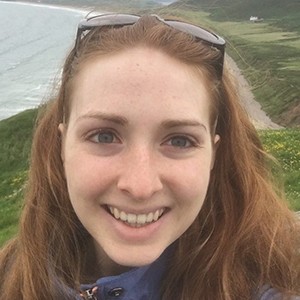 Before enrolling at Stonehill, Erica Cordatos '19 had high hopes of studying abroad once every year of college. "I soon realized that's uncommon," she said. "Most students go abroad once as upperclassmen if they're lucky."
Apparently, Cordatos' dreams weren't so far-fetched. She has studied abroad three times as an undergraduate. She recently returned from Lithuania, where she interned at the United States embassy. She helped the Regional Security department set up the Lithuanian chapter of the Overseas Security Advisory Council, which alerts American companies to security threats.
The previous year, participation in Stonehill's LION program led her to an internship in Armenia at Transparency International, a global anti-corruption coalition. And during the summer after her first year, she studied in Wales after earning a coveted place at a Fulbright Summer Institute.
Cordatos, an economics major and data science minor, notes going abroad helped her realize the broad practicality of her degree. "Economics and data play pivotal roles in politics here and abroad," she said. "I witnessed the wide-ranging applications of classroom concepts in various international settings."
Creating Opportunities for Success Through Mentorship
Cordatos credits Stonehill's Office of Academic Achievement and LION program founder Anna Ohanyan, professor of political science, with alerting her to international leadership opportunities and providing guidance that helped strengthen her applications.
"My supervisor in Lithuania said my application stood out because I had prior experiences overseas, particularly in Armenia, a developing country," Cordatos said. "Stonehill opened those doors for me. If you take advantage of the school's resources, college can be whatever you make of it."
Craig Kelly, associate provost for academic achievement, said connecting students with opportunities that position them for postgraduate success is fundamental to Stonehill's mission.
"We are committed to mentoring students and enabling them to reflect on their academic and cocurricular engagements," he said. "Doing so enables them to determine what they have learned from experiences, as well as what they have learned about themselves. Mentors help students make thoughtful, intentional and purposeful decisions resulting in success during their time at Stonehill, which inherently leads to success after graduating, whether in employment, graduate school or postgraduate service."