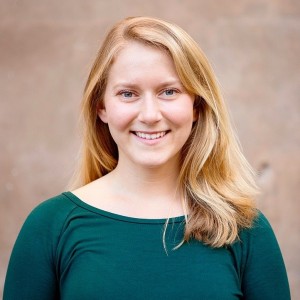 Emily Schario, a graduating member of the Class of 2018, has been awarded the Anthony Ellis Post-Graduate Fellowship, which will support the production and launch of the first season of her new podcast, Avocado Toast.
"Avocado Toast is a podcast for those who brunch, those who are broke and those who are somewhere in between," Schario said, who graduated with a bachelor's in mediated communication and English literature. She now works as a production assistant at WGBH, a public radio station in Boston. "As an avid podcast listener, I want to create a space where young people can have an honest, open, and hopefully hilarious conversation about the pits and peaks of navigating the 'firsts' of adulthood."
In topics that include relationships, politics, the job search and mental health, Schario says each episode will explore one of the many Millennial growing pains of adulthood for those under 30. "This roundtable will function as a space of reflection, thoughtful conversation and comedic relief," she adds.
Coming from a family of actors, Shario says storytelling has always been a huge part of her life.
"As the managing editor for the Electro-Library podcast at Stonehill's Digital Innovation Lab, I've had the opportunity to sharpen my skills in crafting a creative, engaging and impactful podcast that connects with students and faculty members in the Stonehill community and beyond," she said. "From pre-production to post-production, as a member of the Digital Lab I've learned how to shape a successful story for the ear."
Shario says her plan for the year is to produce one episode of Avocado Toast every three months—four episodes by the end of the year—to create a space for young people to start a dialogue about the things that are most pertinent to their lives at the moment.
Listen to the first episode of Avocado Toast here!