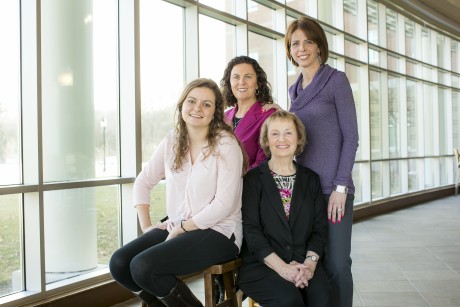 "How would you like to save somebody's life?" Assistant Professor of Biology Sheila Barry poses this question to students in her "The Practice of Medicine and You" Learning Community when she starts a unit on Transplants. It's her entrée into encouraging students to join the bone marrow donor registry Be The Match and letting them know they'll be staffing the annual registration and blood drives on campus.
This year, thanks to Barry's efforts, there may be three lives saved. Be The Match has contacted three Stonehill community members as potential bone marrow donors: Vice President for Student Affairs Pauline Dobrowski, Professor of Psychology Jane Nash and student Megan Fontaine '14. Dobrowski got the call mid-November. After a confirmatory DNA test, she donated bone marrow in late January. Fontaine and Nash both received positive results on their respective DNA matches. Fontaine will donate in late March while Nash is on hold until her recipient is ready.
The fact that a community as small as Stonehill has three matches at the same time is "incredibly significant," according to Barry. "Nationally, only one in every 500 registry members go on to donate to a patient."
The world's largest bone marrow donor registry, Be The Match has 94,500 active donors in New England. And that's good, because when it comes to matching bone marrow donors with recipients, more is better. "Matching the tissue types of patients to donors is a complex process, far more complex than matching blood types," explains Nicole Pineault, regional recruitment supervisor for Be The Match at the Rhode Island Blood Center. "Once you've made the initial match, only one in 12 will go on to donate."
Dobrowski is thrilled that she was one of them. "It's not often you can give a gift like this to someone," she says. "It was an amazing, amazing experience."
Joining the registry is simple: it involves filling out a form and doing a cheek swab. Dobrowski joined the registry on a whim in 2007. "I was walking through the Commons and saw they were having a drive. I thought, 'why not?'" she remembers. "When you do that mouth swab, you never think you'll be called."
Dobrowski was called—as the match for a man with a rare blood cancer. After her donation, she had the opportunity to write him a note. "I told him my process went well and that my thoughts were with him," she says. She closed with the encouragement, "be strong, have faith and know that together, we will do this." Dobrowski elected to receive an update on her recipient after six months. "When he hits the year mark, Be The Match will ask if we want to be in touch. I definitely will want to meet this person," she says.
Fontaine says she also wants to meet her recipient—a man with lymphoma. "I feel like that's the least that I could do. And if I were in his shoes, I'd want to meet my donor," she says.
Nash is experiencing a mix of emotions—anxious about the delay and optimistic that she'll still have the chance to donate. "I've always wanted to do this," says Nash, who has been on the registry since 1999. "It's such a life-affirming opportunity."
Dobrowski is the first person at Stonehill to successfully donate bone marrow. According to Barry, who has coordinated the on-campus drive since its inception in 1999, she's only heard of two other Stonehill matches. "One didn't make it by the second round of tests; in the second case, sadly, the recipient died before the donation could be made," she says.
Pineault calls the streak of Stonehill donors "fantastic." "It shows that we're having an impact on the transplant community," she says. "There are people facing death who now have a second chance. These donors are giving people back their lives. It's incredible to think you could be part of someone's cure — not surgery, not medication — it's you."
Stonehill's next Be The Match drive is March 31. Collections will be done from 10 a.m. to 3 p.m. at the Martin Institute and on the lower level of Roche Dining Commons.
"There's huge need to diversify the registry," Pineault says, putting in a pitch for donations. "We don't have strong minority representation, which is critical because patients are most likely to match the tissue type of someone who shares their racial or ethnic heritage. But, then again, I work with Caucasian patients every year who don't have matches — so bottom line, every donor is important."