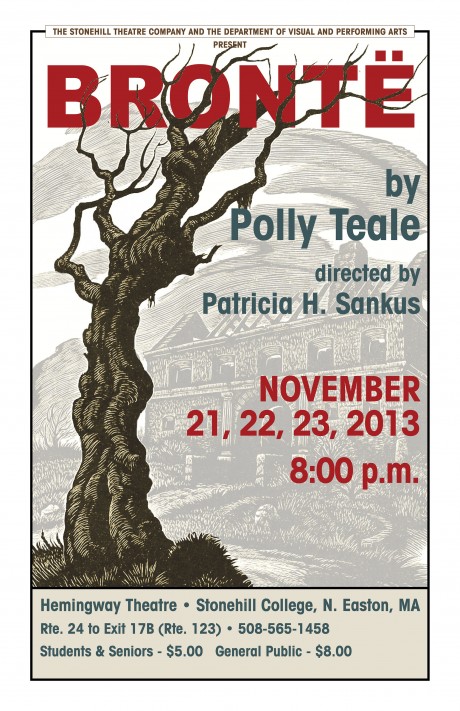 The Stonehill Theatre Company and the Department of Visual and Performing Arts will present their fall 2013 production Brontë by British playwright Polly Teale Nov. 21-23 in the College's Hemingway Theatre. The play, which will be directed by Stonehill Professor of Theater Arts Patricia Sankus, will run nightly at 8 p.m.
The short, troubled lives of the Brontë Family have become one of the great literary myths of all time. How is it that these Victorian sisters living in rural isolation could have written such powerful and passionate works as Jane Eyre, Wuthering Heights, and The Tenant of Wildfell Hall? This play evokes both the real and fantasy worlds of the Brontës, as the sisters' austere surroundings give way to the boundless power of imagination.
The Brontë sisters, Charlotte, Emily, and Anne, originally published their poems and novels under masculine pseudonyms, following the custom of the times practiced by female writers. Their stories immediately attracted attention, although sometimes controversial, for their passion and originality. Charlotte's Jane Eyre was the first success, while Emily's Wuthering Heights, and Anne's The Tenant of Wildfell Hall were later recognized as literary masterpieces.
The three sisters and their brother, Branwell, were very close and they developed their childhood imaginations through the collaborative writing of increasingly complex stories. The confrontation with the deaths first of their mother then of their two older sisters influenced their writing.
Professor Sankus has been teaching theatre arts at Stonehill since 1980 and over her three decades, has directed 40 productions for the Stonehill Theatre Company.
Tickets are $5.00 for students and seniors and $8.00 for the general public. Tickets may be reserved starting November 11th by calling 508-565-1458. Tickets may also be purchased at the Roche Dining Commons during lunch and dinner hours.