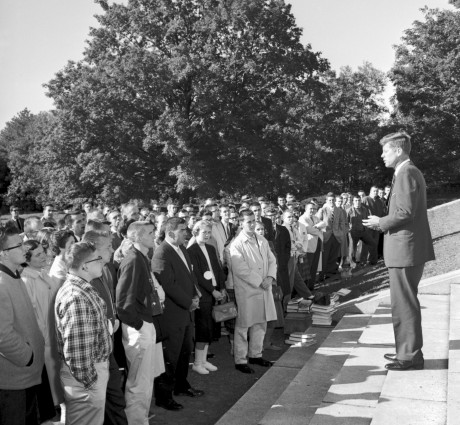 The assassination of President John F. Kennedy in Dallas on November 22, 1963 stunned the Stonehill community as it did the rest of the country. At the time, the College was just 15 years-old and had 1,044 students, mostly commuters.
And, President Kennedy was no stranger as he had visited campus in October of 1958 when he still represented Massachusetts in the U.S. Senate. On the steps of Donahue Hall, before a large crowd, Kennedy had urged the students "to accept the responsibility of conscientious leadership so necessary to the national affairs of this generation," as The Summit reported. (Pictured below is Kennedy with Stonehill President Fr. Richard Sullivan (left) and Fr. DePrizio (right) in October of 1958.)
In this story, three alumni from the Class of 1964, along with one faculty member recall their reactions to the assassination of President Kennedy on that fateful day 50 years ago.
Illusion of Survival
Today a Pulitzer Prize-winning journalist and author, Gerry O'Neill '64 remembers gliding along on a vague but good feeling of minor accomplishment, having finished a paper for an English or history class. As he entered the cafeteria in the Old Student Union through the back door, he learned that President Kennedy had been shot but not killed.
"I thought he's immortal and such a necessary leader and so he can't possibly die. Students were subdued, worried-looking and talking in small groups. I went distractedly to class, clinging to the illusion of survival. Then the announcement came that the worst was fact. There was the stunned silence so common in the country, then some tears and hugs, everyone to their own thoughts. Mine was: how could this singular man who had it all be gone in seconds? It was a commuter school then and the campus emptied out quickly, most getting home to be with family and to sit by the television for the next several days," O'Neill recalled.
The Bell Tolls
Associate Professor of Communication (Rev.) James Chichetto, C.S.C. '64 was a senior philosophy major and a professed Holy Cross religious in 1963. Sitting in his political science class that morning, he sensed something was wrong as Professor Robert Riordan was distracted and kept looking out the window at people on the quad hugging or standing still. Eventually, Professor Riordan left the classroom only to return moments later to report, "The President has been shot."
"It was overwhelming. People did not know what to do. We left the class in shock. There was a sense of sadness and solemnity. It was like a member of the family had been killed," said Fr. Chichetto, who returned to Holy Cross Center where he and the other seminarians lived at the time.
Fr. Chichetto recalls that his Religious Superior Rev. John Murphy, C.S.C. got the Center's tower bell tolling as a mark of respect while the stunned seminarians sat glued to a small black and white communal television as the drama unfolded.
Disbelief
After morning classes that day, Professor Richard B. Finnegan '64 headed to George's Café in Brockton to grab pizza for lunch with classmates. At the pizza parlor, the owner told them that President Kennedy had been shot.
"We were in disbelief, even dismissive. When we thought of assassinations, we flashed back to history and the murder of Abraham Lincoln. But when the owner turned on the television, the reality struck home although the news was still fuzzy and unclear. I did not return to campus but went back to my parents' house in Milton to follow Walter Cronkite's television coverage of the assassination," he recalled.
Class Dismissed
Professor Emeritus of History James Kenneally started his career at the College in 1958 and had witnessed Senator Kennedy addressing students in front of Donahue Hall that year. He learned of President Kennedy's assassination just before he was about to begin one of his classes. Composing himself, he went in with the intention of using the tragedy as a teachable moment, exploring assassinations from history and in democratic societies.
"I tried to teach the class but I couldn't. Instead I spoke about President Kennedy's charisma which I had witnessed the year before. My National Guard unit met him in Washington D.C. as we returned from Germany where we had been sent at the time the Berlin Wall was being built. When he saw us, he came right over and expressed appreciation for our service and sacrifice. He was sincere and even his critics in the unit were impressed. He had charisma," he recalls.
Thinking back on that memory proved to be too emotional though and Professor Kenneally had to dismiss the class early. As he recalls, "in the end, tears got the better of me."
To mark the 50th anniversary of the JFK assassination, the MacPháidín Library has created a book ribbon, a strong selection of books on the topic that are featured both physically in the library itself and virtually online. For more, visit https://www.stonehill.edu/library and scroll down.