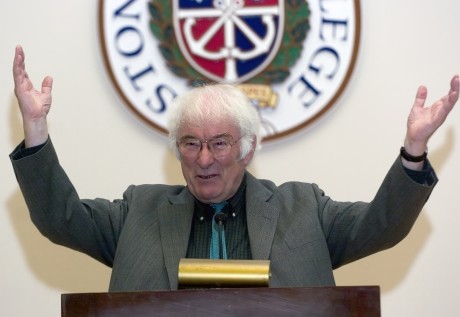 In 2004, poet and playwright Seamus Heaney, who died earlier today, discussed poetry and read many of his poems at the annual Chet Raymo Literary Series Lecture. Below is a recap of the event.
Acclaimed Irish poet Seamus Heaney addressed a standing-room-only crowd at Alumni Hall on Wednesday, October 20. The Nobel-prize recipient regaled those gathered for more than an hour in a presentation that was equal parts poetry reading, history lesson and literature tutorial.
Calling poetry "a musically satisfying order of sounds," Heaney read nearly a dozen of his poems, spanning his 40-year career.
The topics, ranging from the ordinary — farming, the birth of baby — to the more somber, the death of his brother from an accident and a cousin from sectarian violence, were all drawn from his rural upbringing and the realities of coming to age in an unsettled Northern Ireland.
His warm wit came through in his choice of poems, including "Digging," "The Forge," and "St. Kevin and the Blackbird."
"I know it by heart, but you can never be sure," quipped the poet as he located a particular verse in one of his collections.
In reading the evening's final selection, a poem inspired by observing blackbirds on the lawn outside his home, Heaney confessed the choice was "simply because I wrote it not too long ago, and I'm quite fond of it.," he told the audience.
Heaney is the author of 12 collections of poetry, including Opened Ground: Selected Poems, 1966-1996 (Farrar, Straus and Giroux, 1999). He also authored Finders Keepers: Selected Prose 1971-2001 (Farrar, Straus and Giroux, 2003).
In addition, he's written essays, critical studies, and translated a number of works, including the recent Beowulf: A New Verse Translation (W.W. Norton & Company, 2001).
Heaney is highly honored. In addition to winning the Nobel Prize in Literature in 1995, he is a member of Aosdana, the Irish academy of artists and writers, is a foreign member of the American Academy of Arts and Letters, and was named a Commandeur de L'Ordre des Arts et Lettres by the French Ministry of Culture.
In coming to Stonehill this fall, Heaney joins the short list of Chet Raymo Literary Series speakers, which includes Raymo himself, former Poet Laureate Robert Pinsky, and Canadian poet and author Ann Michaels.
The lecture is presented annually in the fall and brings significant writers of poetry, fiction or non-fiction to Stonehill's campus to share their work and to speak about the art of writing. The Series was created in 2001 to honor Raymo, one of Stonehill's most celebrated professors, and his contributions to fiction and non-fiction. A professor of physics and astronomy for 37 years, Raymo is a noted author and award-winning science writer.