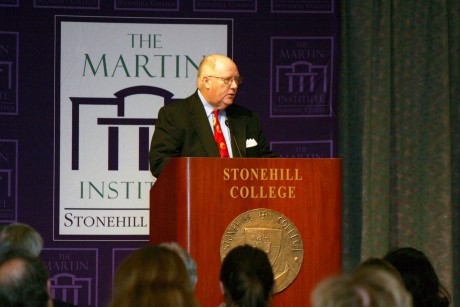 During his junior year at Stonehill, John F. Stack, Jr. '72 went to New York City to participate in the National Model United Nations program, where students participate as delegates to U.N committees, researching and creating political positions based on real issues and countries.
There, he immersed himself in questions of global concern, including regional conflicts, human rights, development challenges, peacekeeping possibilities and many other issues.
As he grasped the art of diplomacy and compromise, the political science major did not imagine that one day he would direct a top academic program dedicated to the study of international relations.
Globalization Scholar
Yet 42 years later, Stack now serves as the Executive Director of the School of International and Public Affairs (SIPA) at Florida International University and Associate Dean of the College of Arts and Sciences there. A research powerhouse with 54,000 students, FIU is the seventh largest public university in the U.S.

A scholar of globalization, Stack has published widely on ethnic conflict, U.S. foreign policy, comparative and international law, American constitutional law, and administrative law. Looking back to his Stonehill education, he credits the College and his professors for nurturing in him a passion for international relations.
Stonehill Professors Open New Worlds
"My career experiences as a teacher and a scholar were framed by my experiences at Stonehill. My professors were so committed to student learning and to mentoring. They opened new worlds for me," he explained.

Among those professors, Stack includes Richard Finnegan '64, Bob Reardon and John Patterson in political science, James Kenneally in history, Chet Raymo in physics, and Frank Ryan in English.

"I was the kind of student who needed to be pushed and I got that encouragement and support from my Stonehill professors. I also got a great introduction to the value of an interdisciplinary approach and methodology," he said.
Model United Nations
And what about the Model United Nations experience? That remains very important to Stack as he explains:

"For the past seven years, I have advised and guided FIU's MUN team. The students teach each other, learning new skills and building the kind of confidence that creates opportunities for professional success, which is what Stonehill did for me," Stack noted.

In November, FIU's MUN team placed second to West Point as the Outstanding Small Delegation at the University of Pennsylvania MUN Competition -- the third major award earned for FIU during the Fall 2013 MUN circuit. The Team has been ranked among the top ten programs in the US for the past four years based on rankings by Best Delegate (bestdelegate.com). For fall 2013, the team was ranked fifth in the U.S.
Stonehill Connections Today
Stack also serves on the Advisory Board of the Joseph Martin Institute for Law and Society at Stonehill. In 2008, as part of the Martin Institute's two-year study of globalization, Stack returned to campus to share his research and insights on the topic. In 2002, he spoke at Stonehill on the topic of Constructing Human Rights in the Americas.

Professor Stack holds a joint appointment as Professor of Politics and International Relations and Law and Director of the School of International and Public Affairs (SIPA) at Florida International University. As professor of Politics and International Relations and Law, Dr. Stack serves as an instructor to graduate students of SIPA's Department of Politics and International Relations and FIU's College of Law. He specializes in Ethnicity and World Politics, Administrative Law, National Security, and Constitutional Law.

After Stonehill, Stack earned his Master of Arts (1974) and PhD (1977) from the Graduate School of International Studies of the University of Denver and his JD from University of Miami's School of Law in 1989. He was admitted to practice before the Florida Supreme Court in 1990.