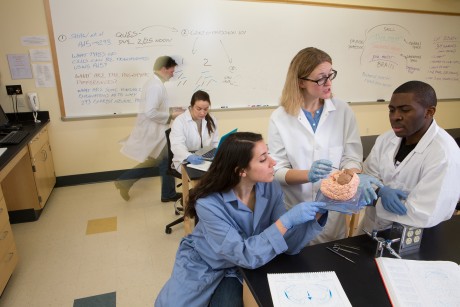 One of the great pleasures of arriving somewhere is to be greeted warmly by someone who is expecting you. A pleasure, but perhaps not a marvel – unless the person who meets you at the door has a neurodevelopmental disorder that makes socializing, especially initiating interaction, a challenge.
On successive Saturdays last fall, a Stonehill student in the Neuroscience: Mind, Body, Community Learning Community (LC) arrived with her classmates for service learning at the Yawkey House of Possibilities (HOPe House), where children and young adults with special needs engage in recreational and social programs. Right off the bat, the student connected with a young woman who was normally content to take on a bystander role, says Kristen DeSisto, Children Services Program Director at HOPe House. Week after week, the friendship – and the client's inclination to engage – grew.
HOPe House is a rarity in Massachusetts. Located on the Stonehill campus, it offers clients – who may have autism spectrum disorder, Down Syndrome, Rett Syndrome or other conditions – a homelike place to socialize, exercise and develop skills while allowing their families and caregivers time to relax and recharge.
Making the Connection
It was former faculty member Sharon Ramos-Goyette's idea to structure an LC around the HOPe House, says Neuroscience Program Director John McCoy. Students in an LC take two linked courses and participate in a third activity that integrates the academic material. In this case, students study the "nuts and bolts" of the nervous system in the psychology course Brain and Behavior, approach neuroscience from a more clinical perspective in their Neurological Basis of Behavior course – a team-taught course involving Boston-area doctors with expertise in autism – and use that understanding while working one-on-one with HOPe House children.
The HOPe House experience was the reason Gabrielle Hill '15 of Ipswich, Mass., enrolled in the LC. Shannon Morgan '16 agrees, "There is so much experience to gain from hands-on learning about developmental disabilities."
Enlarging the Perspective
Shannon says that through the LC, she "gained compassion and respect for those struggling with disabilities, and motivation to work toward better treatment and care." Students come to dismantle stereotypes and respect the difficulties caregivers of special needs children face. By combining the conceptual with the personal, the LC honors the Stonehill philosophy that the College must educate the heart as well as instruct the mind.
"I think this LC is a perfect example of the unique opportunities that pop up everywhere at Stonehill," says Tori Ferland '16. "I feel as though this course educated me as a human being… I will never forget the life lessons and lessons from class that I was able to connect through my experiences at the HOPe House. I believe that is what makes not only this LC, but Stonehill so special."
Breaking a Path
LC students have the unique opportunity to learn from MD's who teach at the College, including Adam Cohen, Neurology Inpatient Medical Director at Massachusetts General Hospital, and David Dawson, a senior neurologist at Brigham and Women's Hospital. Dr. Dawson, who has taught the LC from the start, shapes his lectures to prepare students for their service experience. This pays off. The students examine "concepts from more of a clinical, problem-solving standpoint, as if we were medical health professionals that needed to use the knowledge we learned to make a diagnosis," Tori says. The fact that they "get to go back and have group discussions about what they saw, what it means and how they should respond, interact..." says Ms. DeSisto, makes them particularly strong volunteers.
Through the back-and-forth with their teaching team, rounded out by Assistant Professor of Biology and Neuroscience Heather Yu and Post Doctoral Teaching Fellow Justin Dore, and through weekly journals that include objective assessments of clients' progress as well as personal reflections, the students develop keen observation, critical-thinking, and problem-solving skills while examining their own values. They can discover whether a profession in medicine or in a clinical setting is right for them.
Adds Gabrielle, "Not only did everyone learn a lot, but most of us found a new passion in working with children with special needs. We saw that what we did made a difference, which was enough to put a smile on all of our faces."