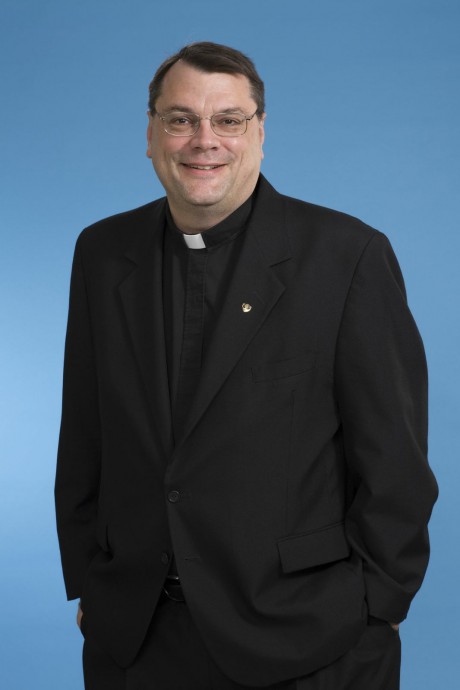 Dear Alumni,
As the College's new Alumni Minister, I am delighted to have this opportunity to introduce myself and to tell you how much I am looking forward to meeting you and ministering to Stonehill's alumni family. While I am new to Stonehill, I know the College has a growing and loyal alumni body, one that is passionate about our educational and spiritual mission, and I am excited to now be part of this community.

Outreach
Of course, in the months ahead, I want to meet as many alumni as I can and, if you would like to contact me, my email address is aszakaly@stonehill.edu or call the Alumni Office at 508-565-1343. Please call me Fr. Tony. But now, let me tell you a little about who I am.
I was born April 25, 1960 in South Bend, Indiana, the youngest of four boys. I am a total educational product of Holy Cross. I was taught by the Holy Cross Sisters at St. Joseph Grade School, the Holy Cross Brothers at St. Joseph High School and the Holy Cross Priests at the University of Notre Dame, all within walking distance of my family home.

Triple Domer
I am what is known as a triple domer, having three degrees from Notre Dame. I received a Bachelor of Arts in 1982 and a Master of Business of Administration in 1985 before entering the seminary and earning a Master of Divinity in 1991. I made my final vows in Holy Cross in August of 1991 and was ordained a priest in April of 1992.
My first assignment as a priest was as associate pastor at St. Clement's Parish in Hayward, California. In 1995, I was assigned as pastor of St. Joseph Parish in South Bend, Indiana, which was the parish in which I attended grammar school. In 2003, I was asked by Fr. David Tyson, C.S.C., the newly elected provincial of the Indiana Province to be assistant provincial and treasurer of the Province.
Treasurer
In that role, I supervised the finances of the entire province in the US, Uganda, Kenya, Tanzania, Mexico and Chile. I travelled extensively in these areas visiting our priests and brothers in their various works and ministries.

After the Indiana Province and the Eastern Province of Holy Cross merged in 2011, I continued in my role as assistant provincial and treasurer until my term in office ended with the election of a new provincial in 2012. I was then assigned to Stonehill College as the Superior of the Holy Cross priests and brothers in the Easton area in July of 2012.
Stonehill Boards
As Superior of the local Holy Cross community in Easton, I serve on the Board of Fellows and the Board of Incorporators of Stonehill College. In addition, I currently serve as the Chairman of the Board of Ave Maria Press, the publishing company that Holy Cross runs at Notre Dame, Indiana.

On the Provincial level, I also serve on the Finance Committee, Properties Committee, and Strategic Planning Committee. On the Congregational level, I serve on the Finance Committee and the Financial Planning Task Force. While I was pastor, I served the Diocese of Fort Wayne-South Bend as chairman of the Diocesan Endowment Trust, and as a member of the Diocesan School Board, the Diocesan Building Committee and the Diocesan Capital Campaign Committee.

I look forward to meeting many of you at Reunion on May 31, June 1, and 2.
God Bless,
Fr. Tony
Alumni Minister