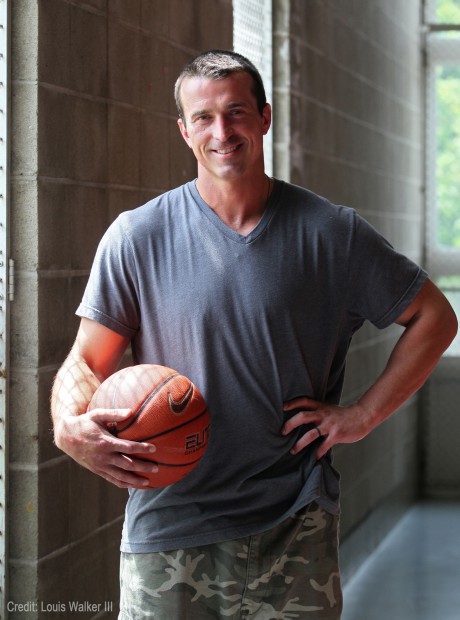 Former NBA star Chris Herren will bring his inspiring story of overcoming addiction to Stonehill this Sunday, April 7 at 7 p.m. in the Merkert Gymnasium. After just two seasons in the NBA following a promising collegiate career, Herren's struggles with drug and alcohol abuse took over his life, which nearly ended after a drug-related car accident in 2008.
A Fall River native, Herren was named the "Boston Globe" and Gatorade Player of the Year his senior year at Durfee High School in 1994. Entering college, he was featured in multiple magazines, including "Sports Illustrated," hyping his possible success. Herren played one season at Boston College after being kicked off the basketball team following several failed drug tests.
In 1995, he transferred to Fresno State University in California where he played three seasons despite more failed drug tests and a stint in rehab. He was drafted by the Denver Nuggets in the second round of the 1999 NBA draft and after one season with the Nuggets, he was traded to the Boston Celtics where he played 25 games during the 2000-2001 season. While playing for the Celtics, Herren began abusing painkillers such as OxyContin, Vicodin, and Percocet.
After being released by the Celtics following the end of the 2000-2001 season, Herren went on to play professionally for teams in Italy, Poland, Turkey, China, and Iran but during that time his addiction spiraled out of control. By 2008, he had seven felonies on his record, all drug related. That year Herren overdosed on heroin and crashed into a utility pole in his hometown of Fall River where he had been declared dead by paramedics for 30 seconds. Following the event, he completed several intensive rehabilitation programs.
Now sober since August of 2008, Herren is speaking out about his struggles with addiction. In June 2009, he launched "Hoop Dreams with Chris Herren," a basketball player development company which mentors players on and off the court and in 2011, he published "Basketball Junkie: A Memoir," which documents his career on and off the court.
Also in 2011, ESPN aired a documentary, "Unguarded," based on his book, as part of its popular "30 for 30 Series." It went on to earn two Emmys nominations for Outstanding Sports Documentary and Outstanding Editing.
Following the release of his book and the airing of "Unguarded," Herren was approached by hundreds of people and their families looking for assistance in their road to recovery. Inspired by their stories, he formed "The Herren Project" to educate at-risk populations on addiction and help others in taking the first steps toward recovery and a life of sobriety.