Briana Lamari '20 shares thoughts on participating in a service experience her first year.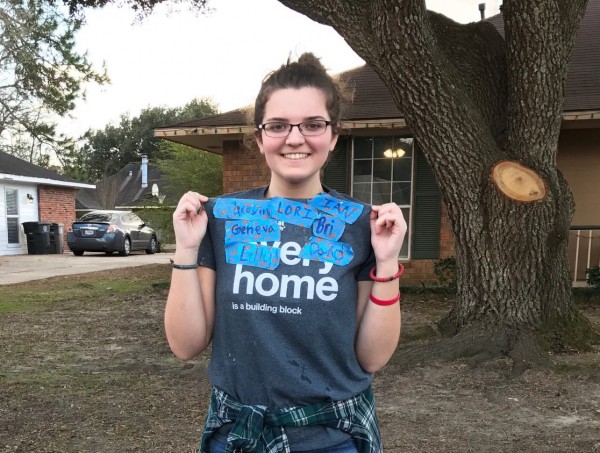 There is something indescribable that happens when you choose to devote your time and energy towards building a person or family a home.
Last Spring, I returned from a week in Baton Rouge, Louisiana, which was ravaged by floods last summer. The trip was part of the H.O.P.E. Service Immersion Program at Stonehill College. As I was applying to colleges, this program stuck out to me, as I absolutely loved the two service trips I went on in high school.
Being a freshman and not being completely comfortable yet, I was hesitant about participating in H.O.P.E. but decided there was no reason to miss this opportunity.
Besides the tremendous bonding that happens among the students who went, we met some amazing people and got our hands into many different projects. We did tasks such as take down walls (demolition is REALLY fun), scrape up floor tiles, paint walls and prepare the homes to be more mold resistant.
We sang Billy Joel songs while painting, threw sponges at each other during clean up and ate donuts and king cake. But it was all about getting the family back home sooner and doing whatever we could to get the job done.
Besides from getting to explore new places, your entire perspective and priorities change when you engage in service work.
You can make lifelong friends. You are immersed in the culture in a way that others never get to explore and you get to challenge yourself. Lastly, you become part of someone else's story and leave them with nothing but hope.
There will always be a need for volunteers to reach out their hands to pull others out of darkness. If you are able to give up your time to simply pick up a paintbrush to paint a child's bedroom or install baseboards, why not do it?
No matter how busy your life is, everyone should experience what it is like to give back to a community that faced complete devastation. One of my favorite quotes is "The best way to find yourself is to lose yourself in the service of others."