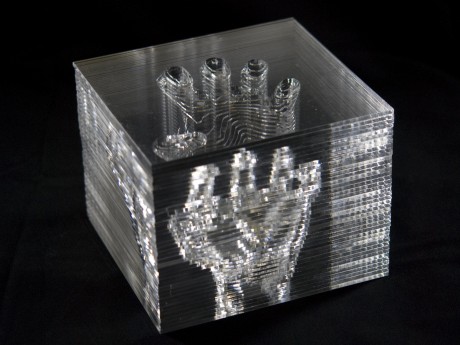 Boston-based artists Danielle Krcmar and Michael Mittelman will have their sculptural work on display at Stonehill's Cushing Martin Gallery through November in an exhibit titled "Dialogical." Krcmar is currently an Artist in Residence at Babson College while Mittelman is the Associate Director of the Center for Advanced Visual Studies (CAVS) at MIT. An opening reception and artist talk is scheduled for Tuesday, October 8 from 6 p.m. – 7:30 p.m.
Both artists work intersects figurative sculpture with the use of text, investigating contextual conservations. They each specifically highlight when the second half of the conversation or response is in question. Both artists also use technology to return to and embrace the essence of the human spirit and humanity.
Krcmar's Craigslist Personals Portraits question the idealistic interpretations of a one-sided conversation as she imagines the sculptural visage of the advertiser.
Mittelman's hand-inked prose on vellum reveals an unbalanced commentary often given without expectation of an answer. His Plexi topographical formations of hands in the void ask the viewer to reconsider the meaning of their gestures.
Krcmar has taught at Brandeis University, Clark University and The Museum School in Boston. She received the Elizabeth Greenshields Grant in 1993, and the Massachusetts Cultural Council Grant and the Blanche Colman Foundation Grant in 2001. Her work has been shown in the Fuller Art Museum, the Duxbury Art Complex Museum, the Gallery at Green Street, and other galleries in New England and New York. Her work has been reviewed in Sculpture Magazine, The Boston Globe, The Boston Herald, The Boston Phoenix, Arts Media, and The Rockland Journal among others.
Mittelman is the founder of ASPECT: The Chronicle of New Media Art, a bi-annual DVD compilation of contemporary time-based art that highlights artists whose works are best documented in video or sound. He received an MFA from the Studio for Interrelated Media at Massachusetts College of Art. Since then he has exhibited his work widely in the Boston area, including at the List Visual Arts Center and DeCordova Museum. Mittelman has taught at MassArt and Emerson College. Before joining the Center for Advanced Visual Studies at MIT, he was Chief Architect at Hangout Industries.