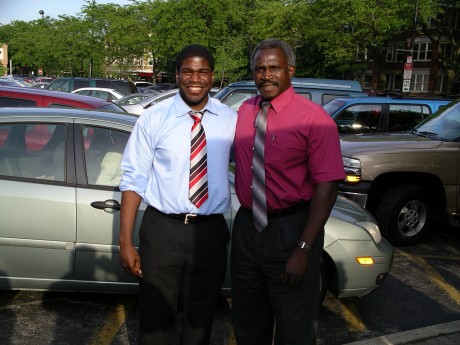 When Andrae Vandross transferred to Stonehill College at the beginning of his junior year he knew it could be awkward joining the Class of 2002 two years into its formation.
He had come to the conclusion that the college he attended as a freshman and sophomore "was not the right fit for me academically." The aspiring doctor and biochemistry major wanted more of a "rigorous educational experience." So in 1999, the Brockton native transferred to Stonehill, and although he was aware that he'd be joining an established class, Andrae found the transfer to be seamless.
"I absolutely loved being immediately invited into the fierce debates and impromptu jam-sessions in O'Hara (Hall) common lounge at all hours of the night," says Andrae, 34, currently a third-year resident in Internal Medicine at Yale-New Haven Hospital.
Jumping In and Making Friends
Andrae jumped into campus life with both feet: He became a resident assistant at O'Hara Hall and Pilgrim Heights. He sang in the all-male a cappella group, The Chieftones, and played drums as the only student member in a faculty band, the Stonehill Jazz Quintet.
"Being an RA helped me meet people a lot easier," he says. "RAs are usually involved in multiple things on campus, and I immediately got to know a lot of those people. Doing a cappella and the jazz band was an interesting way to open up dialog with people as well."
Finding a Calling
It was as a research assistant in the Stonehill Undergraduate Research Experience (SURE) program in the summer of 2001 that Andrae found his true calling: medical research. SURE is an opportunity for Stonehill students to perform significant, publishable research in collaboration with a faculty researcher.
"I've wanted to be a doctor for as long as I can remember, but SURE was where I discovered that I wanted to make research a part of my career," says Andrae, who researched the synthesis of polyhydroxylated pyrrolidines with Professor Louis Liotta, chair of the Chemistry Department. That fall, Liotta and Andrae attended an event at the Pfizer's Central Research facility in Connecticut where Andrae presented his research.
"When you're researching, you're doing something that nobody has done before," he says. "And in the end, it has the potential to help someone."
Valuable Preparation for Medical School
After graduating from Stonehill, Andrae became a researcher at Yale University's lab for two years, studying ion channels, DNA analysis, and working with bacteria and yeast. When that study moved to the University of Chicago, Andrae applied to medical school there.
He graduated from the University of Chicago-Pritzker School of Medicine in 2009, and is currently a third-year resident in Internal Medicine at Yale-New Haven Hospital. This July, he'll head to UCLA for a three-year fellowship in Hematology/Oncology. His goal is to become an academic oncologist, doing research and treating patients with hematologic cancers.
Liotta says taking part in the SURE and having the opportunity to share the results of that research with other scientists was instrumental in building Andrae's confidence. "The research experience also gave him an in-road into the medical research laboratory he worked in after graduating from Stonehill, which eventually led him to med school."
Andrae recalled that Liotta came up to him one day and suggested he get involved with SURE. "I had never considered doing research before," he says. "It was completely uncharted, I was nervous, but I thought it was great that he thought I could do it."