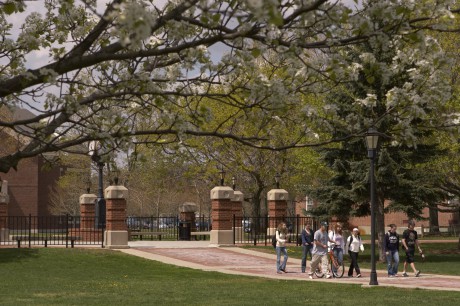 The Summit, the student-run newspaper at Stonehill, has been recognized as one of the top student papers in New England by the prestigious New England Society of Newspaper Editors (NESNE). The Summit took third place in its annual Best College Newspaper of the Year contest.
Published six times a semester, the paper will be honored at the New England Newspaper & Press Association's Awards Ceremony on May 2 at its headquarters in Dedham. At that time, the organization will also present its professional awards, including the lifetime achievement awards for master reporters, photographers and copy editors, the Rising Star Award, and the Judith Brown Award, which recognizes accomplished women in New England journalism.
"It is wonderful to see the hard work of the staff recognized by this professional organization," said Summit faculty advisor Maureen Boyle, who also directs the College's Journalism Program. "We've always known our student newspaper staff was top notch. Now, these student-journalists are recognized by the pros in the field."
"We're honored to receive this award from such a prestigious professional group. It is very gratifying to have our hard work recognized," said Summit editor-in-chief Paige Allen '13.
In addition to Allen, the Summit staff includes news editor Silvana Vivas '13, features editor Kelsey Braga '13, sports editor Tim Culverhouse '14, opinion editor Brianna Lertora '13, design editor Ariana Geisse '15, copy editors Alexander Dubois '13, George Farah '15 and Suzanne Murphy '13, photo editor Emily Gehrdes '13, business manager Kelly Lordan '14, circulation manager Allie Smith '14, and advertising manager Alexa Pinciaro '14.
Staff writers for the 2012-13 academic year include Erin Kelly '13, Leland Greeley '14, Tara Daniels '14, Thomas Darcy '15, Joseph Falzone '14, Thomas Kazanowski '14, Megan Lewis '14, Mary Lee Mahony '14, Kate Q. McCarthy '14, April Renzella '14, Olivia C. Schneider '15, Craig Riotto '13, Matt Tardiff '14, Brendan Murray '14, Caroline McBride '13, Jessica Martin '13, Lauren Zdanis '13 and Dana Bahrawy '15.
The Quinnipiac Chronicle at Quinnipiac University took first place in the contest while second place went to The Brandeis Hoot at Brandeis University. The Veritas News at Eastern Nazarene College and The Berkeley Beacon at Emerson College tied for honorable mention.