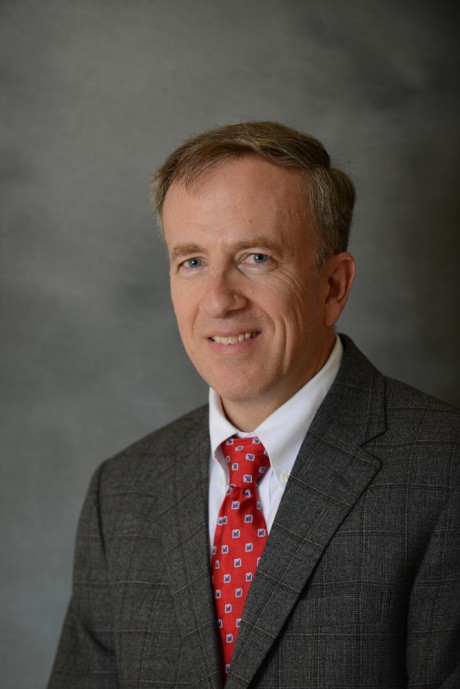 To mark the Solemnity of Our Lady of Sorrows, on Sunday, Sept. 15, and to honor the patroness of the Congregation of Holy Cross, Rev. Thomas O'Hara, C.S.C., provincial superior of the United States Province of Priests and Brothers, named Associate Vice President for Finance and Operations Craig Binney as one of eight recipients for the 2013 Spirit of Holy Cross Award.
The award is given annually in glorification of the Virgin Mother to lay collaborators who faithfully serve the Province in the United States and abroad. Mary, our mother, loved, served and sacrificed her Son for all people so that the Church could be born. The Spirit of Holy Cross Award recognizes lay collaborators who devotedly work to make Blessed Basil Moreau's vision and mission to "make God known, loved, and served" a reality at the Congregation's education, parish and mission apostolates.
Cognizant and supportive of Holy Cross' role in the founding, development and continuing operation of Stonehill, Binney was nominated for the award by Rev. Robert Kruse, C.S.C.
"Craig has been a wonderful colleague and collaborator with many Holy Cross religious in administration and on faculty. He is a friend to many in the local community. He never fails to place community needs above his own," Fr. Kruse said.
"He provides a convincing model of Christian family life. In his daily life, he consistently manifests his deep commitment to God, his family and the Stonehill community," Fr. Kruse added.
Binney has been employed at Stonehill since 1985, when he started as Assistant Director of Academic Computing and Assistant Professor of Computer Science. He rose to Director of Administrative Computing in 1988 and continued as an assistant professor until 2000. Binney was named Assistant Vice President for Finance in 1997, Associate Vice President for Finance in 1999 and then to his current post in 2011.
Binney also is involved in local charities and last year rode 100 miles to raise money in the Rodman Ride for Kids. He received Stonehill's Gaudete Medal in 2005.
A graduate of Stonehill, Binney is a parishioner at Holy Cross Parish in South Easton, Mass., where he is also a member of the finance commission. Binney and his wife, Ann '83, have been married for 27 years and have five children.