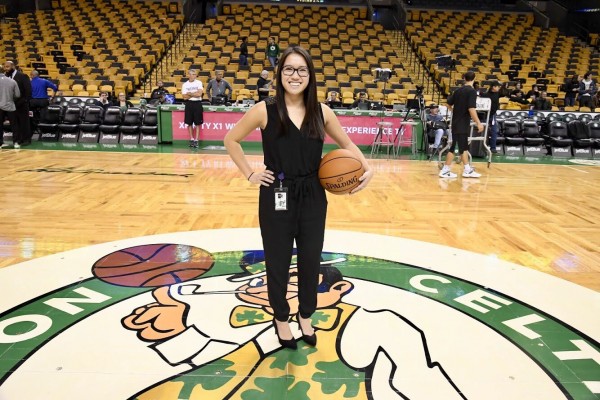 Sports aficionado Leah Carter '18 didn't realize she could combine her fandom with her desire to study marketing, until a minor in sport commerce and culture at Stonehill allowed her to break into the competitive sports industry while receiving a well-rounded education.
"For me, the hook was sports, and outside of that, the minor pushed the limits of how far sports can reach and the value of sports in our society," said Carter, who is the sales planner at NBC Sports Boston.
Carter, who interned at NBC Sports Boston and with the Boston Celtics during her time at Stonehill, isn't the only student with a desire to look at sports analytically; sport commerce and culture is the most popular minor among the Class of 2020.
"Students are intrigued by how well the minor fits in with the mission of the school, especially its focus on liberal arts training and interdisciplinary courses and curriculum," said program co-director Lee McGinnis. "You would be hard‑pressed to find the interdisciplinary nature that we offer at another school."
The minor is housed in the Thomas and Donna May School of Arts & Sciences with its courses exploring disciplines across both schools, encouraging students to learn about a number of different fields from commerce and marketing to religion and psychology.
The chance to study sports in the classroom grabs students' attention. From there, the curriculum sparks an interest in developing analytical skills and motivates students to think critically, while the breadth of the program entices them to continue their studies.
"Some students come to take a course in sports, but it's really an economics course," said program co-director Akira Motomura. "They may initially be interested in the issue of what athletes are paid. To give a good answer requires using the key concepts, analytical skills and tools of economics in a critical way. Those skills and an understanding of theory carry over to other industries."
Students find freedom to build minor that fits their needs, interests
With a focus on topics like commerce, economics and sports marketing, the minor is adding courses that appeal to a wide range of students and complement a variety of majors.
"The curriculum is growing and expanding," said McGinnis, referencing a recently added course called Sports, Society & Culture, in which students will look at sports from a sociological perspective and explore the place of sports, and its controversies, in our society. "Our goal is to try to get as many disciplines as we can to partake in the minor."
Through the minor, students gain a fuller understanding of:
Sports industry operations
Brand recognition
Endorsement and sponsorship opportunities
The economic impact of sports on the community and companies
Similarities of rituals in sports and religion
"The sports aspect is a good complement to another set of skills that students develop in their major," said Motomura. "You develop skills that can be applied not only in the sports industry but in many different fields."
One advantage of the program is that students can shape their courses around their personal or professional interests.
"Students can design their own program," said McGinnis. "That's why we designed an interdisciplinary program where students can take courses from religious studies, language, business or economics."
"Something that Stonehill has always done well is give you a well-rounded perspective of society," said Carter. "Classes like The Economics of Sports made me realize all the different facets of sports and how they touch business. Sport Psychology was particularly interesting to me because it challenged the way I think."
Sports: An adaptable topic to strengthen networking bonds
Looking at sports in a critical way gives students a broad set of skills that can be applied however they need them, whether that be in the sports industry, to strengthen critical thinking skills or to form networking bonds within an industry.
"One of the main things this minor did for me was spark conversation," said Carter. "That's because a lot of employers hadn't seen a minor like this before and they wanted to know the type of classes I was taking. It helped differentiate me from other applicants who just had a major in marketing."
Regardless of major, McGinnis and Motomura say knowledge of the sports industry can be useful when networking in any industry.
"It's helpful as a fan, or even as a socially connected person, to gain an understanding of the place of sports in society and how the industry as a whole operates," said Motomura.
"Sports are on the top of everybody's minds — it gets a lot of air play, it gets a lot of publishing," added McGinnis. "A background knowledge in sports may not help students directly with their career, but it may indirectly help build business relationships or other kinds of relationships."