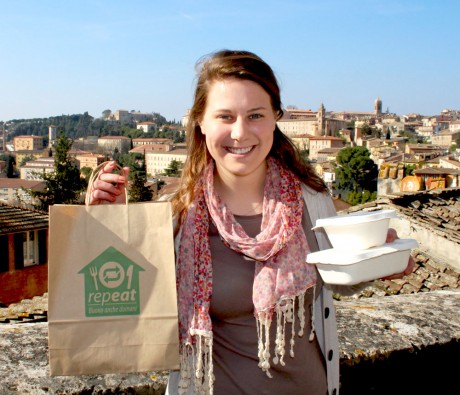 Developing and carrying out a new project into any community can be a challenge, but doing it in another country is even more challenging. That's what Stonehill's Breanne Penkala '15 doing this semester. She is studying at the Umbra Institute in Italy and through one of her courses there, is promoting an initiative to reduce food waste called the "RepEAT Box Project."
Penkala, along with 14 other students taking the course "Sustainability and Food Production," is focusing on educating the local community about food waste by introducing take-home boxes and bags at four restaurants in Perugia.
Unlike in the United States, take-home boxes are not common in Italian culture; this project has afforded Penkala and her peers a cross-cultural view on sustainability, along with a way to bring part of the United States culture to Italy.
Led by Prof. Elisa Ascione, "Sustainability and Food Production" takes sustainability to a new level by combining the in-class study of sustainability practices and philosophies with a hands-on project that gets the students out into the Perugian community.
The class works in groups that focus on restaurant and customer relations; communication and promotion; and waste research. Throughout the semester they will also continue to collaborate with both restaurant owners and patrons to better understand the effectiveness of the project, and how they can increase its longevity in Perugia.
"I am part of the Waste Research team. This involves finding statistics on food waste worldwide, but also specifically in Italy and even Perugia if possible. With these facts, my group hopes to educate the general public on issues surrounding food waste and provide reasons to support and use the RepEAT boxes," explains Breanne.
The project recently made another milestone on January 25th when the students, Umbra faculty and staff, and owner of one of the participating restaurant, held a press conference with Perugia's local governing body "Il Comune di Perugia" and the Vice-Mayor of Perugia. The conference was organized in order to bring awareness of the project's overall goal of reducing food waste in the historic center.
The repEAT Project has been enthusiastically embraced by "Il Comune" as it coincides with a European initiative for 2025 to reduce food waste by 50%. Three newspapers across Umbria, Il Messaggero, Umbria 24, and Tutto Oggi, published articles about the project.
This summer, the project will keep moving forward with the inclusion of a month-long summer internship. The selected intern will continue to develop RepEAT materials as well as assist Prof. Ascione with the summer sustainability course.
Along with bringing change to the community in Perugia, the students themselves have also been affected by what they have experienced in the course.
"My favorite part about the RepEAT Project is seeing it grow. I know a few people who were involved in the project last semester and it excites me how much it has developed since then. I enjoy working in smaller groups apart from the whole, but always joining together because in the end we are able to accomplish and experience more," says Penkala.
by Zachary Nowak
About the Umbra Institute:
The Umbra Institute is an American study abroad program located in the central Italian city of Perugia. Often called a "big university town in a small Italian city," Perugia is the ideal setting to study abroad in Italy, with fine arts, business, and liberal arts courses. It also offers a Food Studies Program, an interdisciplinary curricular concentration about food, business, and sustainability. For more information about the Umbra Institute, contact associate director of the program, Zachary Nowak (znowak@umbra.org).