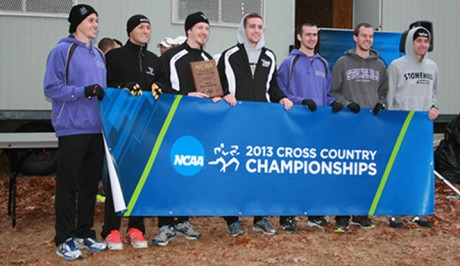 For the 11th straight season, the Stonehill men's cross country team secured a bid to the NCAA Division II National Championship race which was held in Spokane, Washington last month.
After winning the East Region championship, the team made the trip to the Great Northwest in pursuit of its first ever national title.
The team, which already had its share of setbacks throughout the season, suffered a major blow just days before the big race. While the team prepared for the championship in Spokane, thieves broke into its rental van.
Among the items stolen, estimated to be worth over $4,000, were racing shoes, warm-up suits, cell phones and wallets containing cash, credit cards and licenses.
Shortly after learning of the incident, officials at Stonehill quickly went into action to help the team.
For Stonehill Police Chief Peter Carnes, getting team members valid identifications was his first concern as they would not be able to board their return flight home without them.
"We created a strategy to quickly recreate student ID's and also gain access to the RMV to get copies of their licenses," said Carnes.
"We have access to the Criminal Justice Information System which allows us to access the student's information like driver's licenses so we were able to get paper licenses for the boys from Massachusetts and Connecticut so they could fly home. The NCAA contacted TSA and assured them flying wouldn't be a problem," Carnes added.
Officials from the Stonehill Athletics Department also went to work, sending out new warm-ups and new shoes to the team immediately.
"I've never been more proud of my institution. Everybody was great in Athletics and Campus Police and helped us get through such a tough time," said Head Coach Karen Boen.
"Running is a different animal. We deal with demons for half an hour and try to mentally relax. I'm not sure if anybody did, but with all of the obstacles we had to overcome this year this was just another one and the boys responded with amazing heart. They bleed what it means to be a Skyhawk," Boen continued.
While the men's team didn't come home with a national title, finishing 28th overall, Boen was still pleased with the team's effort.
"There were so many other things that happened this year with us that people didn't know about. This one brought us attention and showed how tough we are, and I've never met a tougher team or one that battled this much," said Boen.
Despite numerous injuries and illnesses throughout the season, the men's team won its third overall East Region title and first since 2007 back on November 10, two weeks after capturing its third straight Northeast-10 title.
Boen, who also coaches the women's cross country team, was named the East Region Coach of the Year for both sports in addition to being named the NE-10 Coach of the Year for both.
As for the robbery, the case remains under investigation but police in Spokane have no leads.
"The break-in was done by drilling a hole in the door to unlock the van and steal the belongings. We hope that some cameras may have caught the individuals responsible, but nothing has been reported yet. It was reported quickly and that was key," said Carnes, who has been in touch with police in Spokane.