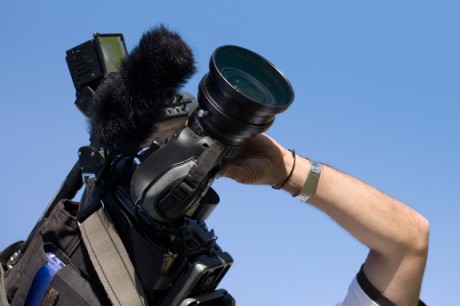 With a revamped recording studio and control room and a new classroom with modern editing capabilities, Stonehill students now have enhanced opportunities for creating visual media, a primary way of communicating in the 21st century. In addition, beginning this fall, the College will offer a new, eight-course minor program in Digital Media Production (DMP). The new minor will be open to first, second and third year students for the 2014-15 academic year.
"This is an exciting time at Stonehill for students interested in digital production. The new minor opens up possibilities to gain knowledge and experience in production that didn't exist prior to now. Our hope is that students will build on their classroom experiences by spending a semester interning in places like Los Angeles or New York," says Professor of Media and Film Ron Leone.
The requirements for the DMP minor include cinema studies courses, production courses, a writing course, an internship, and the completion of a senior capstone/thesis film. The first two DMP courses to be offered this fall will be "Digital Media Production I" and "Writing for Digital Media."


The latter course will be taught by filmmaker Katie Shannon '04, whose recent film 113 Days about our women's lacrosse team captures not only the thrills and heartbreak that every sports team experiences but also what it means to be a female student-athlete today. Shannon will screen and speak about 113 Days in the Martin Institute on Monday, March 24 at 7:00 p.m. To see a preview of 113 Days, visit here.
"Having an alum like Katie, a talented young digital production professional, teach one of our first courses in this new minor is a real bonus. Experienced and creative, she will connect well with our students, giving them a great sense of digital media's potential as an art form and as a career," notes Leone.
For information on the DMP minor, contact Ron Leone at 508-565-1113 or email him at rleone@stonehill.edu.