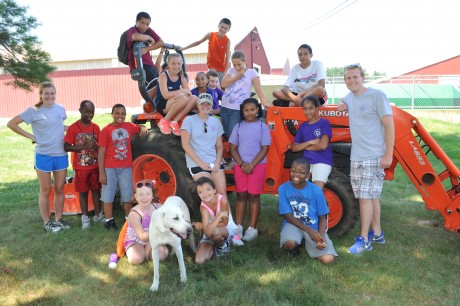 By Michele Morgan Bolton
Camp Shriver fulfilled Chris Vallee's hopes this summer. The Brockton 12-year-old kicked soccer balls to his heart's content while collecting a wide new circle of friends.

Up until now, the free, monthlong inclusion camp created by Eunice Kennedy Shriver in 1962 was held in Boston on the University of Massachusetts campus, a haul for children in some south suburbs who would like to attend.

That changed this year when the camp's second location debuted on the rolling, green campus of Stonehill College in Easton, practically the backyard for Vallee and 57 other children from the urban corners of neighboring Brockton.

The program, which accepts equal numbers of children with disabilities as those without, offers daily swims, field sports, and arts and crafts - along with transportation, camp gear, and meals. Participants range in age from 8 to 12.

The camp at Stonehill College was launched with help and training from the National Inclusion Project and the UMass Center for Social Development. It is one of 200 similar programs nationwide offering a blended summer camp environment for youngsters.

The camp director, Amanda Laws, is the only one who knows which camper is in which category, and her lips are sealed. Measures to ease the path for all are used, but are invisible to most, ensuring that everyone is treated the same, she said. In turn, the campers continually surprise her with the amazing ways they show their kindness, respect, and progress, she said.

"Here, kids flourish,'' Laws said. "And we have the tools to help."


A school adjustment counselor, Laws, 32, is in her eighth season with Camp Shriver, the most meaningful work she does all year, she said: "It's really my favorite job.''

Some campers come by their compassion naturally, she said, like Vallee, of Brockton's North Middle School. The quiet boy with huge dark eyes reaches out to others every day, Laws said. "He is a really good friend."

Said Vallee: "I love this camp because it helps people get to know each other."

The program at Stonehill works on motor as well as social skills and positive peer relationships. Children receive instruction in a variety of sports, play games, work together, and have plenty of free time to blow off steam.

The fun begins when the bus pulls onto the grounds of the college's Holy Cross Center, on the Route 138 side of campus, where a huge white tent takes up much of a back lawn.

On a recent rainy day, the campers moved inside to the center's halls and activity rooms, laughing and happily chatting.

The college's education majors work as the campers' group leaders under the watchful eye of department chairwoman and camp faculty director Kathy McNamara.

Here, the motto is "everybody can,'' McNamara said. That dovetails with the mission of the Holy Cross Congregation, which runs the college, to develop not only a student's mind but the heart as well.

"We have a month, and a model, and we do it,'' McNamara said.

Inclusion is woven into every element of the program, from the bus ride to meals to athletics and social time, she said: "The kids catch on very quickly to what we are all about."

Paying it forward is another key component, said Martin McGovern, Stonehill's director of communications and media. "We've all been warmed by fires we didn't light,'' he said.

Shriver launched the camp 41 years ago to help mothers find camps for children with intellectual disabilities. Camp Shriver started in her Maryland backyard and, six years later, the first Special Olympics Summer Games were held in Chicago, officials said.

Counselor Kristen Kennedy, 21, of Hanover, took a job at the camp to gain experience working with students from Brockton that she hopes will help her land a teaching job in the district.


"What is most touching to me is seeing what these kids do for each other,'' Kennedy said. "On the first day, there were a lot of nerves, but then we have seen in just three weeks how they have grown in social skills."

Christopher Colby, a 10-year-old student at Brockton's Angelo School, met his new best friend, Ajhani, on the first day. "We were playing soccer with each other, and then a week later she brought in chalk,'' he said.

Convulsed in giggles, 8-year-old Kaitlyn Heath said Laws is the best camp feature.

"I like her because she is fun,'' said Heath, who is also fun, judging from her T-shirt, a pink and yellow creation sporting pandas with facial hair and the caption: "I mustache you a question."

"I also like Cheez-Its," Heath said, drawing laughs.

For Tatyana Mainer-Smith, 11, the catapult she made at Camp Shriver will go into her memory book, using it as she did to pummel her brother with marshmallows.

In big ways or small, everyone has blossomed, McNamara said, as Camp Shriver draws to a close Friday.

That has been the goal.

"These kids are no different from anyone else," she said. "They are just kids. And all kids are good kids."
Published in the Boston Globe South Thursday, August 1, 2013.