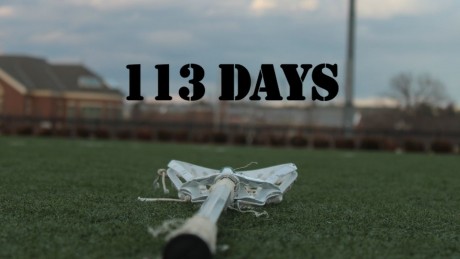 Sports documentaries are increasing popular these days.
There's the popular "30 for 30" series on ESPN, and their new women's series, "Nine for IX."
"Pat XO," a documentary about University of Tennessee women's basketball coach Pat Summit was screened at the Tribeca Film Festival this year.
And coming this fall is "113 Days," a documentary about the 2012 Stonehill College women's lacrosse team. The film is directed by alumna Katie Shannon '04, who went on to earn a master's degree in media visual arts from Emerson and launched her own production company, Thompson Films.
An Eye on Women's Collegiate Sports
"I wanted to bring awareness to women's collegiate sports, to lacrosse, and to Division II athletics. Stonehill was the perfect team to use as a showcase," said Shannon.
"As a filmmaker, getting to make a movie on where you went to school and about the team you once played for is a dream come true," said Shannon, who was involved in every aspect of the film, the title of which refers to the amount of time from the first day of preseason training to the Division II National Championship game.
Shannon was a member of the 2003 Stonehill women's lacrosse team—the first team to win the NCAA Division II National Championship. She and her teammates were inducted into the Stonehill Athletics Hall of Fame back in 2011.
The small Thompson Film crew—consisting of Shannon, executive producer/assistant director/sound mixer Betsy Greer and Stonehill intern Dennis Silversey '12—was at every game and practice throughout the season, collecting more than 300 hours of footage that they edited down to some 90 minutes. Shannon expects to be done with the documentary sometime in September, and will then submit it to film festivals.
The documentary follows all 25 players, but the storyline focuses largely on senior captains, Katie Wood '12, Sam Lynott '12 and Sarah Galligan '12, in their last try for a national championship. In the end, the team fell short of a national title, losing in the Northeast-10 Semifinals.
Treadmill Thinking
A fan of the ESPN series, Shannon got the idea for "113 Days" while running on a treadmill one day in 2010.
She immediately e-mailed her Stonehill teammate Katie (Lambert) Conover '03, now the head coach of the program, to pitch her idea—but Conover took some convincing.
"The last thing I want in the world is someone to be staring at my face on a movie screen," Conover said with chuckle.
But, "in looking at the broader picture," Conover realized that she and her team could be "a vessel to promote women's lacrosse, Division II athletics, and Stonehill, which are things we all care about. Division II athletics are underrepresented. The [student-athletes] do this because they love it."
Her team was all for the idea: "They're college kids, they watch reality TV so they wanted to do this off the bat," Conover said.
Stonehill Class Inspires Passion for Film
An Agawam native, Shannon first stepped on a lacrosse field as a ninth-grader at Agawam High School and instantly fell in love. She played all four years in high school, four years at Stonehill and then joined an adult league after graduation.
But while she's loved lacrosse since she was a kid, she only discovered her passion for film during her senior year at Stonehill after taking Film Theory with Associate Professor of Communication Ron Leone.
"That class changed my life. After that, I knew what I wanted to do with the rest of my life," said Shannon. She also credits Associate Professor of Communication Anne Mattina with being influential in her career choice.
She plans to rent out a theater in Boston this fall for a premier for the lacrosse team and their families, and also to show the film at Stonehill this fall.
In addition to "113 Days," Shannon is currently in production on a new comedic web series titled K+A, which is set in the city of Boston, and centers around Karly and Alex , best friends since college, whose dysfunctional and co-dependent relationship impedes them from ever finding someone special in their lives.
For more on 113days, visit here.