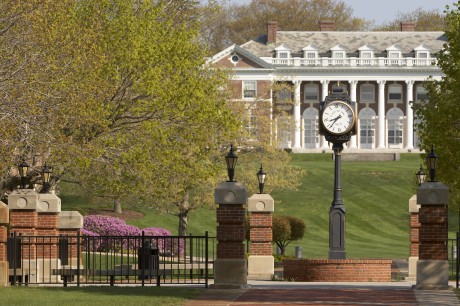 Boston Marathon: In response to the tragic events of last week, our resident assistants are launching an initiative in support of the One Fund Boston. They will be selling 1100 blue wristbands for $2 each with the proceeds going to support the victims. They are also organizing a one-mile memorial and recovery walk on Friday at 4 p.m. To help with the initiative, contact Assistant Director of Residence Life Kelly Treseler at ktreseler1@stonehill.edu or ext. 1781.
Relay Rally: More than 450 students, staff and alumni, organized in 37 teams, recently raised $50,338 for cancer research when they walked in the College's ninth annual Relay for Life. That means Stonehill walkers have contributed $350,000 to the American Cancer Society over the last nine years. We salute all the walkers, but give a special shout out to Dining Services General Manager David Miller who walked in memory of his late wife, Tina, and whose Fearless team took first place by raising $9,286.
Hoop Grant: Former basketball player Pricilla Dodoo'12 has been awarded a $25,000 grant by the Shooting Touch Sabbatical program. With the grant, Dodoo, who was born in Ghana, will spend ten months in Rwanda building a hoop program for children and helping them with their education. An International Studies major, Dodoo is working on a master's degree at the University of Bridgeport with a focus on global issues. The ECAC Division II Player of the Year at Bridgeport this past year, she speaks five languages. More than 100 students applied for the Shooting Touch grant and Dodoo was one of only two winners.
Healthcare Success: As a youth, Bob Simpson '93 created his first business plan through Junior Achievement, which empowers young people to own their own economic success. His path to success, however, required time and persistence. After serving in Vietnam and Korea, Simpson, now 67, was a truck driver. When he returned to college in midlife, it took him seven years of night school at Stonehill to earn a degree in healthcare administration. Today, he is president & CEO of Lee Sar, a leading healthcare supply chain management company based in Florida. And, coming full circle, he was recently inducted into the Junior Achievement of Southwest Florida Business Hall of Fame for Lee County. Loyal to Stonehill, Simpson ensures that every summer two or three healthcare students have internships with Lee Sar.
Food Bank: When PricewaterhouseCoopers (PWC) employees in Boston gathered recently for a day of community service, 20 Stonehill business students participated in the event. Members of Beta Alpha Psi (BAP), the accounting honors program, the students helped with a Food Bank project bagging and boxing thousands of pounds of food. Stonehill-PWC ties are strong as more than 80 alumni work for PWC. Two of them, Caroline Kingston '12 and Janelle Lopez '09, joined out students on the project. Congrats to BAP President Samantha Lindquist '13 and PWC Campus recruiter Leslie MacKenzie on a great event.
Summer Discount: Register for Stonehill's Blueprint Summer Program with the code Stonehill2013 and get $100 off tuition. Students live on campus, take exciting courses and meet high school students from across the U.S. They can even do SAT prep with the Princeton Review. The program is open to rising 9-12 graders. Space is limited.