Pathways to Careers
Pathways to Careers is a personal development program designed to help students draw connections between their liberal arts curriculum and the skills needed to stand out in their chosen field.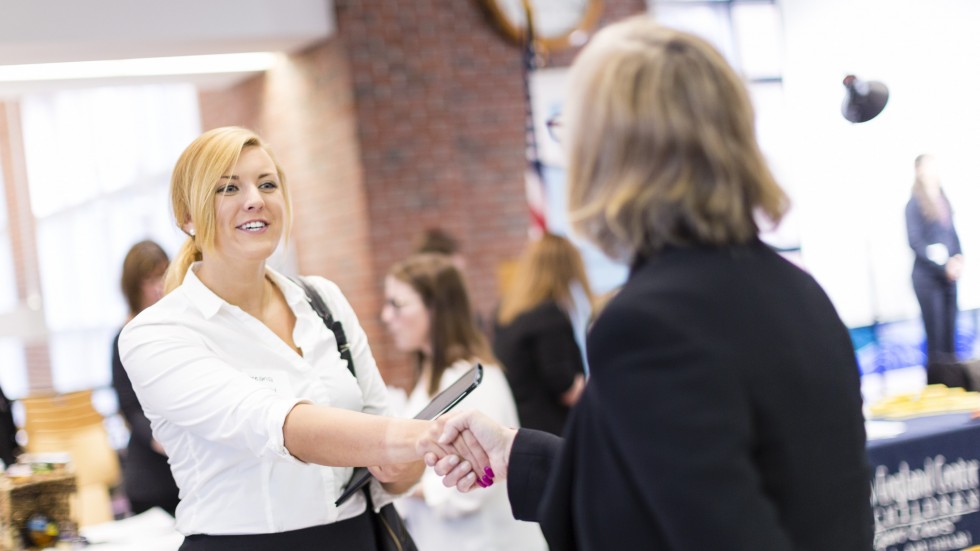 What can you do with your major? How can you leverage your interests and academic work for employment after Stonehill? What steps should you be taking now to ensure your professional readiness after graduation? The Pathways to Careers program will help you integrate your liberal arts education into the career exploration process by examining each of these questions and helping you align your academic and co-curricular pursuits to skills and career readiness competencies that are in demand by employers today. It is offered in partnership with Stonehill's Career Development Center (CDC) and anchored by a one-credit course.
Pathways
Each of you are on a unique journey towards personal and professional fulfillment. The Pathways course and program at Stonehill will help you to define that journey and give you the skills necessary to achieve success. Your individualized pathway will incorporate academic development through coursework at Stonehill, professional development through an internship that provides experiential learning, and personal development through continuous self-reflection to better understand and communicate who you are, what it is you want to do and why, and how you are prepared to do it.
Pathway Components
Each pathway has four components:
1. Professional Development
All students complete a one-credit course: Pathways to Careers. This course introduces you to professional readiness concepts, such as resume and cover letter writing, networking, and interviewing skills.
2. Mentoring
All students will connect with at least three mentors through the Pathways program: an alumni mentor, a faculty mentor (different from their assigned faculty advisor) and a career mentor in the CDC. Mentors will help students to identify ways to increase marketable skills, as well as to articulate the value of their liberal arts education to prospective employers, graduate schools or service organizations.
3. Experiential Learning
At the conclusion of the Pathways to Careers course, you will have written a personalized, flexible pathway to pursue at Stonehill. Each pathway takes students on a different course: a pathway may encourage a double major or the addition of a minor, while some pathways can be satisfied with a particular class at Stonehill. All pathways will culminate with an internship experience allowing the student to practice the skills in a professional environment and gain experience to make them more competitive in the marketplace.
4. Personal Development
You will be intentionally engaged in conversations that require self-reflection and assessment to help you process your thoughts and experiences. This process will empower you to create as well as reflect upon and revise your personalized development plan that integrates coursework and high-impact learning experiences. You will take into account the types and appropriate timing of experiences, the reason for engaging in them, the articulation of and reflection on your experiences, and the appropriate revision of your plan following each period of reflection. Over time, you will clarify and achieve a deeper understanding and awareness of who you are and be able to articulate your own unique story.
Contact us with any questions.
Cushing Martin Hall – The Kruse Center
Career Development is open year-round to assist with students' career-related questions or concerns.