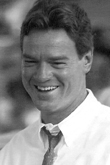 The Timothy J. Coughlin Memorial Scholarship will award scholarships, on an annual basis, to academically qualified students with a demonstrated financial need. The recipients will be members of the Stonehill College football, women's lacrosse or men's lacrosse teams.
A member of the Class of 1980, Tim was well-known, admired and respected all across campus. He was a member of the College's football team, earning the MVP award during his senior year; a Director of the student-run campus pub, Brother Mike's; and was involved with the Big Brother/Big Sister program.
A highly successful government bond trader, Timmy rose to the position of Senior Managing Director of Cantor Fitzgerald Securities and Espeed when his life was tragically cut short on September 11, 2001.
Recipients of the Timothy J. Coughlin Memorial Scholarship will be chosen by the Stonehill College Scholarship Committee in consultation with the Director of Athletics.