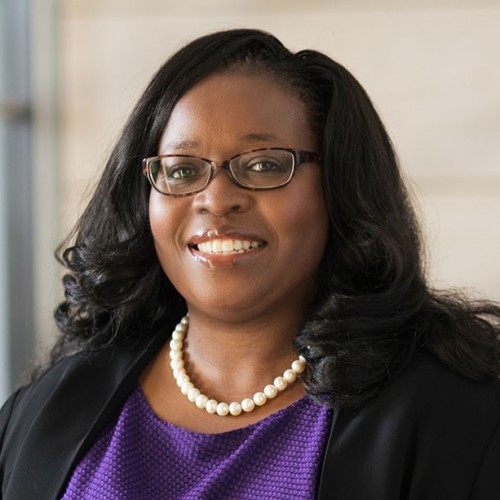 DeBrenna L. Agbenyiga
Vice President for Academic Affairs and Provost
DeBrenna LaFa Agbényiga, Ph.D., MBA, MSW, was appointed as Provost and Vice President for Academic Affairs in December 2020. In this role, she oversees all college operations directly pertaining to academic programming, faculty, and academic administration.
A scholar in the fields of social science and business administration, Agbényiga has an extensive record of leadership, achievement, and service as a professor and administrator. Most recently, she founded and managed her own higher education consultancy firm called Agbényiga Global Education.
Prior to her consulting work, Agbényiga served as Provost and Vice President for Academic Affairs at Bowie State University in Maryland, where she was also a full professor with tenure in the Department of Social Work. She also served as Vice Provost and Dean of The Graduate School at the University of Texas at San Antonio, an emerging Hispanic-Serving Institution (HSI), while maintaining tenure as a full professor in their Department of Social Work. At Michigan State University, Agbényiga held the role of Associate Dean for Graduate Studies and Inclusion in the College of Social Science, as well as Associate Professor with tenure in the School of Social Work. She was the founding director of the college's Office of Equity, Diversity, and Inclusive Academic Affairs.
Agbényiga's research spans organizational culture, international social and economic development, community development and sustainability, women's rights, children's rights, gender-based violence, cross-cultural learning, and diversity. She has spent numerous years working globally, and more extensively in Africa, as a researcher and consultant to numerous ministries, nongovernmental organizations, and universities. Her research has been published in leading social work journals including the Journal of Social Work Education, Children and Youth Services Review, Administration in Social Work, and Advances in Social Work. She has coedited two books and several book chapters.
She earned her Ph.D. in social work, MBA in strategic management, and MSW in social work-urban studies from Michigan State University. She obtained her bachelor's degree in criminal justice from the University of South Carolina-Columbia.