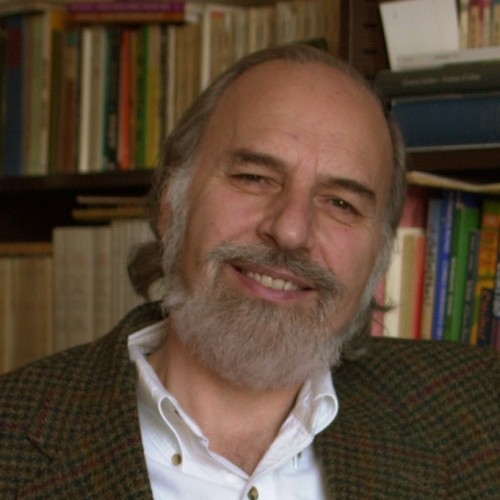 Antonio Barbagallo
Professor of Spanish, Spanish Program Director
Biography
Antonio Barbagallo is the Spanish program director at Stonehill College. He is a world renowned specialist in Cervantes studies, Hispanic Poetry, Spanish and Italian Linguistics.
He studied in Italy, Spain, the U.S. and Mexico under the guidance of world-renowned critics and poets such as Concha Zardoya, Ramón de Zubiría, Carlos Bousoño, and Vito Giustiniani. He has taught at Stonehill College since 1989, and has been visiting professor at California State Fullerton, at Appalachian State University Madrid program, and at Northeastern University. He has also taught English and Italian in Spain.
He has presented papers at innumerable national and international conferences on a variety of topics (Golden Age literature; Hispanic poetry; Spanish and Italian linguistics; etc.). He is the author of a book on the poetry of Antonio Machado, of two books of original poetry, and of more than two dozen articles on Don Quixote, on poetry and on linguistics.
He has also won various awards including the International Poetry and Literature Prize for New Literature from the Italian Cultural Institute.
Education
B.A., University of Massachusetts, Boston
D.M.L., M.A., Middlebury College
Accomplishments
Research grant from Program for Cultural Cooperation between Spain's Ministry of Culture and United States Universities, 2006
Research grants from Stonehill College
Research Interests
Medieval Italian literature
Golden Age Spanish literature
Hispanic and Italian contemporary poetry
Comparative Literature
Linguistics
Courses Taught
20th Century Hispanic Poetry
Advanced Spanish I
Advanced Spanish II
Cervantes
Elementary Italian I
Elementary Italian II
Intermediate Italian I
Intermediate Italian II
Intermediate Spanish I
Intermediate Spanish II
Spanish Linguistics
España, el paisaje, el tiempo y otros temas en la poesía de Antonio Machado, Diputación Provincial de Soria, Soria, Spain, l990, l80 pages.
Book review of Amor a los cuerpos by Fernando Operé in Cuadernos de Aldeeu April, 1999.
Poems published in Cuadernos de ALDEEU, April 1995; Nov. 1995, April 1996.
Poems in Alter Vox, literary journal, Ottawa, Canada, 1998, 1999
De vida o muerte, Editorial Betania, Madrid, 1998, (Poetry)
Selection of poetry in the anthology Poetas sin fronteras, Editorial VERBUM, Madrid, Fall 2000.
De vida o muerte / Life and Death Matters, 2ndst
"El Lazarillo y 'Olé': peculiaridades lingüísticas de España y América" in El español, baluarte del humanismo, Asociación Hispánica de Humanidades, Scottsdale, Arizona, 2008
"España en el paisaje y en el tiempo de Antonio Machado" in Boletín de la Institución Fernán González
"Foreign Language and Critical Thinking" in Stonehill Writes
"Elementos futuristas en la poesía de Pedro Salinas" in Cuadernos Interdisciplinarios de Estudios Literarios
"Sobre algunos anglicismos en el español actual de España" in Cuadernos de ALDEEU,
"El cuento de los dos amigos: El curioso impertinente y la literatura italiana" in Anales Cervantinos
"Sancho no es, se hace" in Cervantes
"El QuijoteActas del II Congreso Internacional de Cervantistas
"Cardenio, hombre atípico" in Actas del III Congreso Internacional de la Asociación de Cervantistas, Universidad Islas Baleares, Palma, 1998, pags. 397-407.
"El tema del amor en el Quijote" in Actas del Coloquio Internacional Cervantes en Andalucía, Estepa (Sevilla), 1999, pags. 173-185.
"Concha Zardoya: poetisa, crítico y maestra en el exilio" in La Mujer Hispana en el Mundo
" 'Un loco' y 'El hospicio': Dos poemas "amargos" y "compasivos" de Machado" in Del rascacielos a la Catedral: Un regreso a las raíces Hamilton College, Universidad de León, León, Spain, 2001.
"El Quijote: Verosimilitud en la ficción o la ficción de la verdad" in Volver a Cervantes: Actas del IV Congreso Internacional de la Asociación de Cervantistas, Universitat de les Illes Balears, Palma de Mallorca, Spain, 2001.
"Ausencias, verbos y adjetivos evolutivos en la poesía de Antonio Machado" in Quaderni Iberoamericani
"Elementos futuristas en la poesía de Pedro Salinas" in La penna di Venere. Scritture dell'amore nelle culture iberiche. Atti del XX Convegno dell'AISPI, March 2001.
"El Quijote o la interpretación semiológica y epistemológica del cosmos y la vida" in Actas del V Congreso Internacional de la Asociación de CervantistasPeregrinamente peregrinos), , (Lisboa, 1-5 septiembre 2003), Alicia Villar Lecumberri (ed.), Asociación de Cervantistas (Dirección General del Libro, Ministerio de Cultura), 2004, pp. 1163-1175.
"Los caminos españoles en la Sicilia del siglo XVII" in Actas del VI Congreso Internacional de Caminería Hispánica, C.S.I.C. Madrid, 2004.
"Neruda, poeta irracional, metafísico y desesperado: (Un breve análisis de Veinte poemas de amor y de Residencia en la tierra) in Artifara
"Las ventas delQuijote: un microcosmos encantado y encantador" in Anales Cervantinos, (tomo XXXVI) Madrid, 2004.
"Neruda, poeta irracional, metafísico y desesperado" in Actas del Encuentro Internacional XIX Asamblea general de ALDEEU, Universidad de Cantabria, Santander, 2006.
Encyclopedia Entry "Los dos amigos" in Gran Enciclopedia Cervantina Volum IV, Centro de Estudios Cervantinos, Editorial Castalia, Madrid, 2008