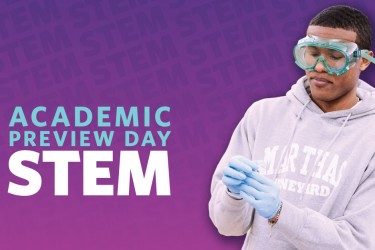 STEM Academic Preview Day
Stonehill College - Shields Science Center
Stonehill combines technical training with the liberal arts so that graduating STEM majors are not only able to play lead roles in their specific fields but are also well-rounded lifelong learners. Studying STEM at Stonehill puts you in a $34 million state-of-the-art science center and has you working with accomplished faculty, while using equipment normally available only to graduate students.

Our STEM Academic Preview Day is a broad introduction to science, technology, engineering and mathematics disciplines and a great way to explore academic opportunities available at Stonehill. You will learn how strong faculty relationships, stellar academic experiences, and intentional career preparation combine to help you craft a success story that will allow you to take the lead on issues important to you.

In addition, you will learn about admission, financial aid and have the opportunity to take a campus tour.
STEM Majors Include:
Astronomy
Biochemistry
Biology
Chemistry
Computer Science
Data Science
Earth & Planetary Science
Engineering (Notre Dame 3+2 Engineering Program)
Environmental Science
Environmental Studies
Health Science
Mathematics
Neuroscience
Photonics
Physics