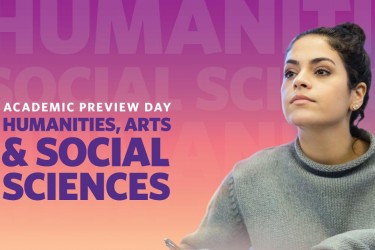 Humanities, Arts & Social Sciences Academic Preview Day
Stonehill College - Academic Welcome Center
The humanities, arts and social sciences are at the core of Stonehill's commitment to helping students develop critical thinking skills and the breadth of knowledge that allows them to achieve success no matter where life takes them. With a criminology program ranked No. 4 in the nation, a political science program with global internship opportunities, as well as exceptional programs in communication, graphic design, and more, it's no surprise Stonehill continues to be singled out by the Princeton Review, Forbes and NPR as being among the best colleges in the nation.

If you are leaning toward majoring in the humanities or social sciences in college, Humanities, Arts & Social Sciences Academic Preview Day is the program for you! You will learn how strong faculty relationships, stellar academic experiences, and intentional career preparation combine to help you craft a success story that will allow you to take the lead on issues important to you.

In addition, you will learn about admission, financial aid and have the opportunity to take a campus tour.
Undecided on a major? Stonehill excels at helping students find their path!
Humanities, Arts & Social Sciences Academic Preview Day will include a panel designed for undeclared majors. There, you will learn how Stonehill supports students as they explore options and hear from advisors on how they can help you focus your search. Come see how Stonehill's Strong Minds, Stronger Hearts philosophy gives graduates a competitive advantage.
Humanities, Arts & Social Sciences Majors Include:
American Studies
Anthropology
Arts & Visual Culture
Catholic Studies
Communication
Criminology
Dual Languages
English
French
Gender & Sexuality Studies
Graphic Design
History
Performing Arts
Philosophy
Political Science & International Studies
Religious Studies
Sociology
Spanish
Theology