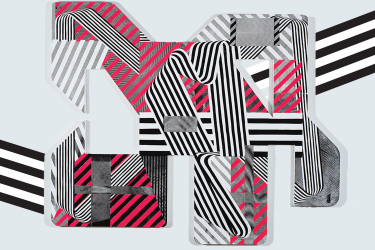 Gallery Reception: Marc Mitchell and Dazzle Camouflage
Carole Calo Gallery
Marc Mitchell is highly influenced by dazzle camouflage and its history. Over the past decade, he has been exploring themes such as appropriation, digital/screen culture, and failed avant-garde movements within his artistic practice. While these topics may seem disparate, there is often a great deal of overlap with each genre.
Since 2015, Michell's studio practice has been highly influenced by dazzle camouflage and its history. Looking to mimic the angular compositions on the British Naval vessels, he has been utilizing shaped panels that could be viewed as a stand-in for the hull of a ship. Like other dazzle artists, Mitchell is developing an archive of seemingly differing patterns that are combined within his paintings and morph during the painting process. The finished product is an artwork that features black and white patterns that visually overwhelm the viewer and create spatial confusion.
In keeping with the traditional patterns used in dazzle camouflage, Mitchell's work contains standard stripes, geometric shapes such as dots or circles, and other commercial produced patterns. By adhering to a limited palette of color (black and white), as well simple patterns, he is able to develop a visual language that seamlessly flows between the historic and contemporary. In addition, Mitchell is also trying to merge both traditional artist practices with more commercial approaches. To this end, he actively embraces interdisciplinary tools typically found outside of painting such as digital software, graphic design, and computer aided machinery to create his work. The result are paintings, prints, and drawings that simultaneously address universal trends such as popular culture and avant-garde movements with an aesthetic that is specific to the history of dazzle ship camouflage.
Please join us for a gallery reception with the artist December 5th 5-7pm.