Good People
by Emily Schario '18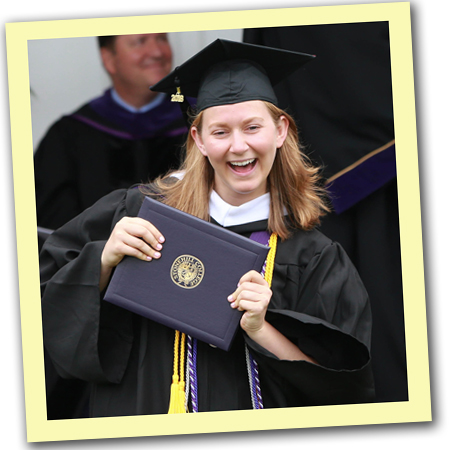 Four years, four move-in days, 120 credits, eight finals weeks and roughly $220,000 later—all for what? Over the weeks leading up to graduation this past May, I spent a lot of time thinking about why I came to Stonehill, and more importantly, why I stayed.
For me, I remember my mom sifting through a sea of college pamphlets and stumbling upon Stonehill's iconic purple envelope. After reading the College's website and watching countless videos of students sharing their Stonehill stories, my mom was convinced that Stonehill was the perfect place for me. I, on the other hand, was not.
Quite frankly, I didn't really know anything about Stonehill. Solely focused on the name and prestige of a school, my stubborn 17-year-old self could not imagine myself at a small, Catholic, liberal arts campus in the middle of Easton. My heart was set on wearing a college sweatshirt that people would recognize and be impressed by.
However, despite my resistance, I applied, was accepted, and on April 5, 2014, I made the drive from Auburn, Maine, to Stonehill for my first Accepted Students Day. If I learned anything from that day, it's that your ego is always wrong and your mom is generally always right.
Within a matter of hours, I found myself warming up to the purple sidewalks, the high-fiving mascot and President Denning's Rhode Island accent preaching that, "Stonehill's gotta lotta harht."
However, it wasn't until I spoke with Professor John Lanci at an Honors Program luncheon that things started to click for me.
"The reality," he said, "is that you can get a degree in English, biology or business from any college. However, the difference is that Stonehill doesn't just produce good students, they produce good people." This comment has stuck with me for the past four years, and it wasn't until recently that I was finally able to articulate what Professor Lanci's comment truly meant.
As a first year student I thought, perhaps it's our politeness, as Stonehill students are notorious for holding doors for long amounts of time, or maybe it's because everyone happily waves at each other on the way to class. While these two things are true, as a senior, I found that they only begin to define what it means to be a Stonehill student.
Being a Stonehill student is having the courage to question, to challenge and to stand up for what you think is right. Being a Stonehill student means holding each other up in the face of grief and tragedy, and celebrating as one in moments of joy and gratitude.
It means spending your spring break on a H.O.P.E. trip or a Wednesday afternoon at My Brother's Keeper. Being a Stonehill student means running out of meal plan money but always having a friend, or a stranger, pick up your tab. And it means proudly answering others when they ask, "Oh, you go to Stonehill…What is that?"
As a tour guide, I would tell people that Stonehill has taken me to 10 countries, two continents and 25 cities, quite literally giving me the world. But, perhaps more importantly, Stonehill has connected me to a lifelong supportive community.
To the Class of 2018: Thank you for always making me proud to wear my Stonehill sweatshirt. As we stand on the precipice of the real world, always remember that you are smart, driven and hardworking, but most importantly, you are and always will be a member of a kind, compassionate and loving community. As Professor Lanci said, "You are good people, and you are exactly what this world needs."
Emily Schario '18, a mediated communication and English literature major, delivered the student address at Commencement in May. This is an excerpt from her speech, which was edited for space.
---
SHARE YOUR STORY. Submit your 500-word essay about your Stonehill thoughts and memories to klawrence@stonehill.edu.