Melanie (Malone) O'Neil '99 and her husband, Brian, are letting an unexpected passion take them on a journey.
by Kim Lawrence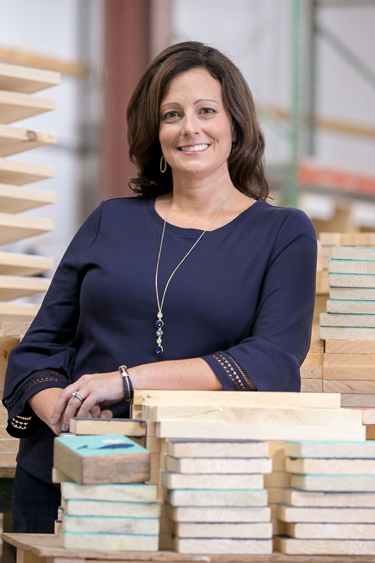 It started as a love story, really. A young couple—soon to be married—wanted to give their siblings a simple yet meaningful gift at their wedding but couldn't find what they were looking for in stores. So the couple decided to make personalized signs for them, spelling out their brother's and sister's last names with white paint on blocks of old wood. Then, they went on their honeymoon to St. Lucia and Antigua for two weeks and turned off their phones.
"When we came back, we had all these messages from our wedding guests wondering if we could make them signs," recalls Melanie (Malone) O'Neil '99. At the time, Melanie and her husband, Brian, were installing reclaimed wood floors in their Millis home. "We took the leftover wood and started painting."
It was a fun hobby. Along with what was quickly becoming their signature block-letter style, the couple also started painting American flags on wood slats, an idea that grew out of a gift that Melanie had made for her dad. Everything they created was in their favored rustic farmhouse style.
The newlyweds could have just left it at that and continued as planned in their new home, with their satisfying and secure jobs—Melanie, who had worked in global marketing at Reebok for a number of years had recently begun working for various startups while Brian worked in sales for a natural pet food company. But, instead, they decided to do something their friends and family thought was crazy—take a chance and follow what was quickly becoming an unexpected passion.
Introducing Rustic Marlin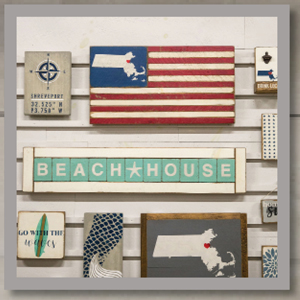 The popularity of their signs continued to grow merely by word of mouth. A few months after their 2012 wedding, Melanie and Brian turned their hobby into a business and named it Rustic Marlin—coupling their choice aesthetic with Brian's love of fishing (and a nod to the marlin he once caught)—and headed off to the Cohasset Farmers Market to test appeal. "If we sold $500 worth of merchandise, we felt successful," Melanie says of their weekends setting up a stand and selling to the public.
Their first major order came from Setting the Space, a home staging company with retail locations in Plymouth and Mashpee. "My sister-in-law was shopping there and saw a wooden American flag, but it was made in China. She told the shop owner that the store should sell flags from a local business and shared our website," says Melanie. Setting the Space ordered $3,000 worth of merchandise and became Rustic Marlin's first real account.
"We were working out of our living room and garage," Melanie recalls of those early days. "We had friends and family come over to help us paint, and we paid them in pizza and beer."
In 2013, Brian started working at the business full time. Melanie followed a year later, after Rustic Marlin had been featured on WCVB Channel 5's Chronicle, leading to a surge in business. But she wasn't entirely sure that she was making the right move. "It was an extreme risk to leave a full-time job, salary and benefits to do this," she says. And although she doesn't consider herself a natural risk taker, she admits, "I've always tried my best, pushed limits and have wanted to take things to the next level. But when you do something like this, it is sort of like jumping out of a plane without a parachute. I thought, 'What am I getting myself into?'"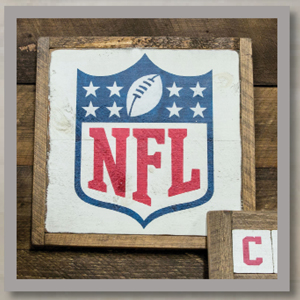 What the couple was getting into was major growth. By 2016, Rustic Marlin had sold over $1 million worth of merchandise from their home, quickly outgrowing what Melanie and Brian's garage and yard could hold. In August of that year, the company moved into a 50,000-square-foot headquarters in Hanover, with space for a wood shop, design and art, finishing, shipping, research and development, sales and marketing, as well as a showroom.
With the new location came more business. Rustic Marlin now makes custom signs for L.L. Bean, Stonewall Kitchen, Life is Good and Black Dog. Last year, they acquired the official licenses to create premium sports décor for the NFL and the NHL and this year, they will have the NCAA license. That's a big deal for the relatively small business, as each of these leagues gives only one official license to a home décor business. Rustic Marlin merchandise is also sold at retail locations throughout the country, such as The Paper Store.
With a total of 60 employees and a catalog of more than 6,000 products, Rustic Marlin now has sales reps who sell to all 50 states. This past spring, the company experienced a record-breaking number of orders, and in August, it was ranked 366 overall among Inc. 5000's Fastest Growing Companies in America as well as the number one fastest growing consumer products company in Massachusetts.
Learning to Learn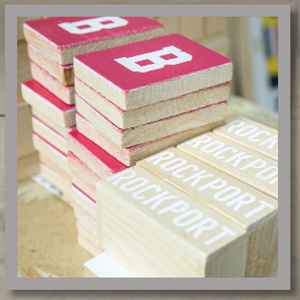 "We never said that we were going to be a sign company," Melanie reflects. And nothing in her life pointed in this direction. Growing up, Melanie didn't have a natural interest in art or design. Actually, she wanted to be a dentist until her father told her to look in his mouth. "Then I realized that this is not for me," she says.
At Stonehill, she changed her major often, ultimately settling on Spanish. During her senior year, she decided to tack on a business minor, and with the guidance of Business Administration Professors Robert Carver and William Burke, she even completed an internship. "I believe you go to college to learn how to learn. You learn how to show up, learn how to tackle projects, work as a team, work independently, learn how to live with someone. Then you take that all with you," Melanie says.
This ability to learn how to learn may be one of Melanie's most valuable attributes in business. She admits that she and Brian don't necessarily know how to make a wooden home décor business successful—they've never done this before. "I'm always asking questions. We go to trade shows and spend a lot of time talking to people who have lived and breathed what we are doing. Where do they buy their boxes? What bank do they use? We are always learning," she says.
As for her entrepreneurial spirit, she credits Professors Carver and Burke for believing in her. "They created an internship for me and believed in a student who was changing minors her senior year," she recalls. "Stonehill allows you to get to know your professors, and they are willing to give advice and lend a hand. It is similar to your family life in that way."
This type of culture is one that she is working to establish at Rustic Marlin. "I look for employees who are teachable and passionate," she says. Honest, too. At Stonehill, she felt that she could be honest with her professors, telling them when she was struggling or needed extra help. "That is the atmosphere I hope we are building at Rustic Marlin, where an employee can come to me with an issue and ideas for solving it."
Gift Giving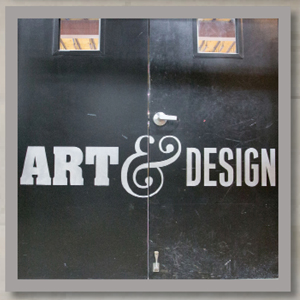 Staying true to its roots, all of Rustic Marlin's signs are still handcrafted and painted. With the exception of machinery to help with woodcutting, there is no mass production. "That is what makes us unique. That's our story," Melanie says.
While Melanie runs the day-to-day operations now, she still sometimes gets sawdust-covered in the wood shop, which is staffed with expert woodworkers. "They don't really want me in there, let's be real. But I'll come in and help out if there are a lot of orders, and we are short staffed."
Melanie understands the need to stay relevant in an evolving industry. Rustic Marlin started just before the rise of Chip and Joanna Gaines—HGTV's popular Fixer Upper couple, credited with launching the appeal of modern farmhouse style. "Farmhouse is trending a lot right now," notes Melanie. "We work to stay on top of it. Things like: Do people want more white than traditional rustic?" The company has an entire team that watches for trends and brainstorms new design approaches such as incorporating script fonts, metallic colors or rose gold, which seems to be everywhere these days. They have also branched out beyond signs to bottle openers, wine racks, trays, coasters and shelving units and are heading in the direction of restaurant and office design.
"We are constantly assessing where we see the company going and how we want to grow," she says. "But it is also important to us to stay true to who we are." And this means remembering that almost all of their products started out as gifts: the block letters for their siblings, the flag for Melanie's dad, the growth charts for their nieces and nephews. "That is very meaningful to us. When we hear stories of how our customers are giving Rustic Marlin signs as gifts—for teachers, at weddings and baby showers, in sympathy—that is when Brian and I really see the impact that the company is making."
Eat, Sleep, Breathe Sawdust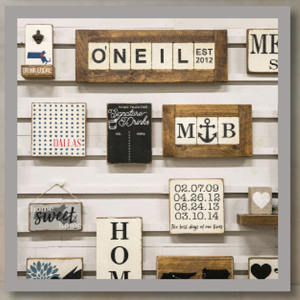 It's been a while since Melanie has had a day off. "My friends tell me that they're doing yard work or going to Target on a weekend, and I think, 'One day, I'll be able to do that kind of stuff again.'" She admits that she and Brian often turn to each other and ask, "Are we crazy?" They work day and night and have made numerous sacrifices to ensure that the business is sustainable. "It's not just us in our garage anymore. We have employees, and this is their livelihood. They have families," says Melanie. "I'm more concerned about them than I am about myself."
There is a joke at Rustic Marlin: Eat, breathe, sleep sawdust. It is a lot of work to start a business from the ground up. Melanie notes, "You have to put this first if you are going to take a risk of this size." And you have to keep your eye on the ball—a catchphrase that Melanie's dad often said to her growing up. As she says, "It is true for softball but also for life." Fittingly, Melanie made an "Eye on the Ball" sign and gave it to her dad for his birthday.

No matter how many hours she's at work, Melanie makes her own family and friends a priority. She is particularly close with her young nieces and nephews, who are often featured on the company's Instagram feed and who like to "play Rustic Marlin" at home. She is also committed to her Stonehill friends. "I can honestly say that if I needed Melanie right now, she would drop everything and be here immediately," says Catherine Kearney '99, who met Melanie her freshman year and then lived together in a townhouse, forming a group of friends they refer to as the Amesbury girls. "She will drive two hours in the middle of the week just to meet up with us," says Kearney.
And when Melanie and Brian, who celebrated their sixth anniversary in September, do eventually have that day off, what will Melanie do? "Spend time with my mom. And Brian and I will probably go fishing."
The Stonehill and Rustic Marlin Connection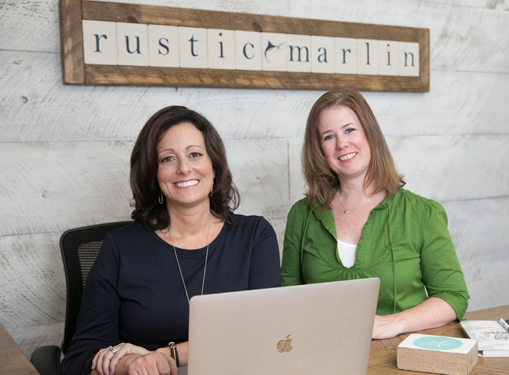 Melanie recalls going to Stonehill's career services department during her senior year—before the days of online job searching—and looking through "those big binders" for interview opportunities. It worked. She was offered jobs right after graduating. She is now giving back to her alma mater.
Revisiting the College's Career Development Center via Handshake, its online job posting site, and the Stonehill Connect Mentoring Database, Melanie has hired Stonehill interns to work at Rustic Marlin in several departments. Kate Stallings '17 was one of those interns.
During the summer before her junior year, Stallings worked as a marketing intern, helping to develop Rustic Marlin's marketing and social media plan. Stallings, who now runs her own Web development and management company, Kate Creative Media LLC, notes, "I always had the idea of starting my own company. Interning at Rustic Marlin gave me a unique perspective on not only the reality of being entrepreneurial, but also on how to be successful at something you love."
Nearly two years ago, Melanie hired Maureen (Dannemann) Burns '94 [pictured above with Melanie] as the director of sales and marketing operations—or as Melanie jokingly refers to as the "director of everything."
While the two didn't connect initially through Stonehill, they have since further bonded through their shared Stonehill experience. "We have definitely talked about our different courses and professors and the buildings—where she lived on campus versus where I lived on campus. We still bring up our times at Stonehill. Those four years are really formative, so it shapes who you become as a person. It's a camaraderie," says Burns.
Rustic Marlin is also listed on the Stonehill Alumni Association's Purple Door Network so that alumni can connect with the company.
Actually, one of Melanie's first employees, from when Rustic Marlin was still in her Millis home, was then-16-year-old Emily Maltinsky, a current Stonehill senior. "Mel always raved about her years at Stonehill and how much she genuinely loved the school. Her love and appreciation for Stonehill inspired me to apply and ultimately attend the College," recalls Maltinsky.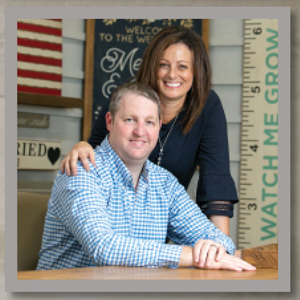 Mentoring Stonehill students is important to Melanie. "Stonehill provided me with the foundation to take my career down quite an unexpected path," she says. "I love when I have Stonehill interns to chat with or when our high school interns decide to go to Stonehill. It is such a wonderful way to give back and guide students who experience what I once did with the same awe and excitement."
Follow the Sign: Melanie '99 and Brian O'Neil [right] in the Rustic Marlin showroom at the company's Hanover headquarters, which houses a wood shop, design and art, finishing, shipping and sales. The sign company was named one of the fastest growing companies in America by Inc. 5000. Melanie, who studied Spanish and business administration as a student, says, "You have to put this first if you are going to take a risk of this size."