Writing on War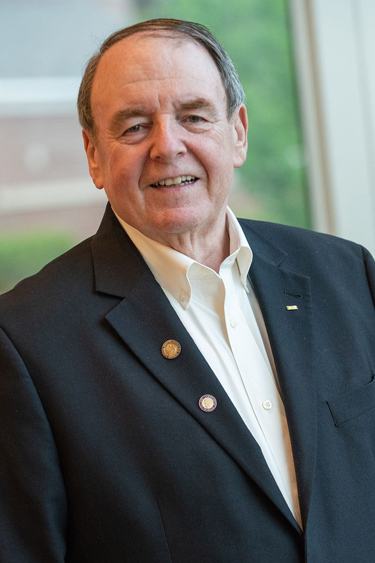 In a corner of the dining room in his Needham home, Thomas Keating '68 has a writing nook where he conjures up the horror, the wonder, the sadness and the hopes of his younger self in a memoir about the Vietnam War. "The world changed, and I changed," says Keating.
Keating joined Holy Cross Seminary and Stonehill in 1963 and left both in 1968. "When I left the seminary, I had no intention of returning," he recalls.
After graduation, Keating enlisted to fulfill his military duty. When he arrived in Vietnam, the personnel clerk was a Stonehill graduate. He assigned Keating a noncombat job at 1st Logistical Command. "I can't remember his name, but he saved my life. I did guard duty and perimeter sweeps but no combat," he says.
When Keating came home in 1970, he went to visit Holy Cross. "A lot of the rules we had to follow—silence, strict obedience—had been discarded," he explains. "I felt sadness seeing that way of life gone from the seminary."
When he retired from a career in education and corporate communications, Keating found the time to read through his war journals and write.
He was accepted into William Joiner Institute's master writing class at the University of Massachusetts, Boston and has completed 12 chapters of his wartime memoir. One chapter, "The Elephants (Con Voi)," about his harrowing experience in a small village in Vietnam, has already appeared in an anthology, War Stories, published in 2017 by Oregon Humanities.
"There are things that you will always remember and things you will always forget," says Keating.
---
Quality Control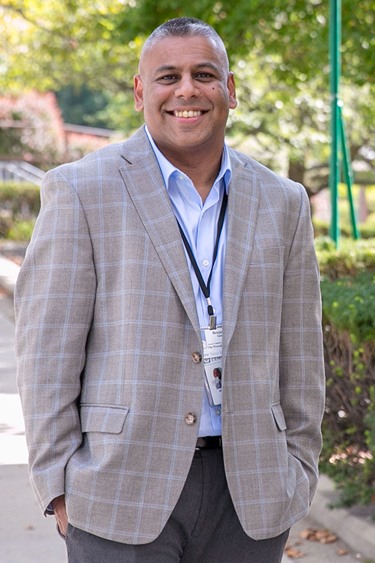 Aristotle famously said, "Quality is not an act, it is a habit." Benjamin Isaiah '00 couldn't agree more. As director of compliance and quality improvement for The Providence Center Mental Health and Addiction Treatment Services, Isaiah ensures that the organization strives for high quality in all that it does.
"I've been working in quality management for almost 16 years, and I've stayed in this field because our work touches every single department in an organization," explains Isaiah, who majored in healthcare administration at Stonehill. "It's an opportunity to have our eyes, ears and hands in everything."
Isaiah oversees a team of 12 people who focus on analyzing processes with the goal of streamlining for efficiency. "How do we eliminate waste to be more efficient? We look at each role. Is there an opportunity to do things in a different way? If yes, then we come up with plans for improvement," he explains.
Much of Isaiah's work involves assessing metrics and meeting requirements set by regulatory bodies and insurance companies. "We supply a lot of data that is tied to reimbursement dollars from Medicare and Medicaid," he explains. "We also look at data for our own improvement."
Compliance also comes into play. "We try to mitigate risks, assess all of the things that could go wrong," he says. "We want to be proactive instead of reactive."
In his free time, Isaiah likes to play tennis and cards as well as travel and spend time with friends and family, including two nephews and a niece. When he heads to the office, his focus is always on the patient experience. "We survey patients and ask them for comments, analyze the results, improve processes, including wait times, and find ways to improve communication. We take what patients tell us and try to provide the best experience possible."
---
Church and Dancing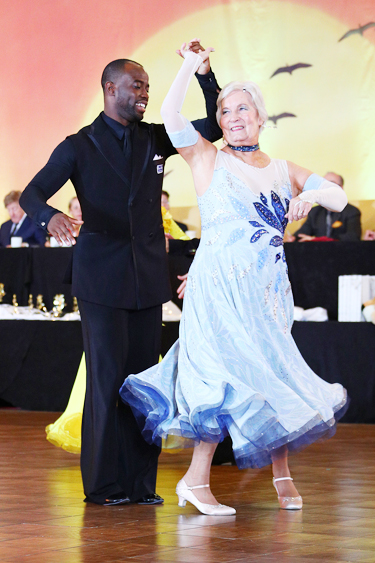 On the pulpit, she leads; on the dance floor, she follows. "You have to really learn to relax and follow your partner, the motion of his hands and the motion of his body," explains retired Episcopal priest the Reverend Billie Mae (Dickinson) Gordon '91, who took up competitive ballroom dancing five years ago.
Ballroom dancing had long interested Gordon, but it wasn't until the retirement community where she lived offered an introductory course that she finally found the time to kick up her heels. "Dancing is fun and therapeutic," says Gordon, who takes weekly lessons and has danced with her instructors in competitions for four years. [She is pictured above with instructor Kemar Bennett.]
And, what about the costumes? "It's all about glitz and glamour," says Gordon, who has rarely worn makeup or heels in her daily life. "At first, I rented gowns, and then I had some made. You have to put on fake eyelashes, eyeliner and mascara, sometimes little sparkly diamonds around your eyes. You have to wear fishnets over pantyhose." Gordon draws the line at two-inch heels. One instructor told her that "unless you look like a streetwalker, you're not made up enough."
Though officially retired, Gordon serves as an interim priest for churches in the midst of searches or with clergy on sabbatical. Though she continues to take dance lessons, she is taking a break from competing.
"I'm going to be 77 in December," says Gordon. "Someday, I'll slow down, but right now I'm in good health and enjoy the wonderful people I meet through church and dancing."
---
FinTech Cool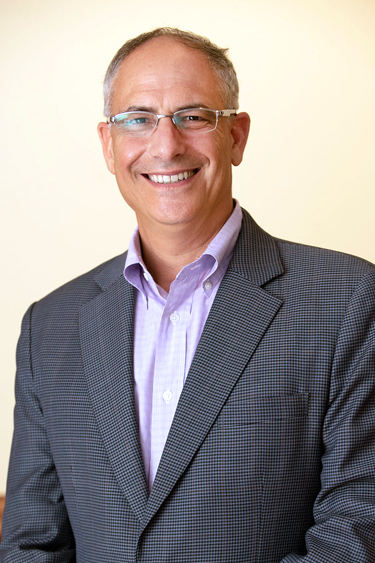 Ralph Dangelmaier '88 does things "in a snap." As CEO of BlueSnap, a leader in e-commerce that provides the software for online purchases, Dangelmaier's goal is to provide quick, seamless and secure transactions for the more than 8,000 businesses that use BlueSnap worldwide. "You would never know we're there because it looks like the business is processing the purchase," explains Dangelmaier. "We're better at accepting payments across the globe than any other e-commerce payments company."
When Dangelmaier graduated from Stonehill, he joined a management training program at Bank of Boston. "Little did I know I was starting a career in FinTech," says Dangelmaier, with a chuckle.
FinTech stands for financial technologies. Broadly, it's a newer industry that uses new technology to improve activities in the delivery of financial services. FinTech companies such as BlueSnap develop innovative technologies that allow businesses to process payments on behalf of their customers.
"We bring an Amazon-type experience to the middle-market business. For example, most businesses can't afford to build their own payment structures to compete with Amazon," he explains. "We're dealing with tons of innovative companies that come up with all kinds of cool apps. Whether it's crowdfunding or new ways to order tickets or retail, we provide tool kits tailored to the goods or services they are selling."
Dangelmaier and BlueSnap are in high demand. He speaks at more than 40 annual events and was a regional finalist for EY Entrepreneur of the Year. "FinTech is now cool," marvels Dangelmaier, who is a member of the President's Advisory Council at the College. "It took me 30 years to become cool."
---
Fashion Forward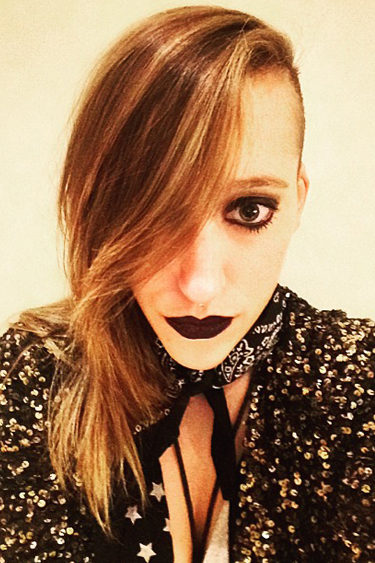 With two semesters in Italy, one internship in New York City and one on-campus fashion show, Elizabeth Scopac '12 admits that her college experience was not typical.
Scopac was determined to create a major that gave her the experience needed to start a career in fashion design and a life in New York City—all while still graduating on time.
Today, Scopac is an associate technical designer for ready-to-wear knitwear at Alexander Wang, Inc., in New York City, a position she worked hard for and truly enjoys.
"Technical designers are the engineers of the fashion world," says Scopac. "We see in shapes and creative visions, but we think in terms of numbers." She understands what her creative design colleagues are envisioning and communicates that to the factory in order to make it happen.
As a student at Stonehill, Scopac took advantage of the interdisciplinary major. Under the guidance of her advisor, Professor Peter Ubertaccio, she set out to construct a course of study focused on apparel design development.
During her semesters on campus, she focused on graphic design, marketing and international business courses, many of which are relevant to the work she does every day. Scopac spent both semesters of her junior year studying at Lorenzo de' Medici, the Italian International Institute, in Florence, Italy, where she took all of her technical design courses.
As a senior, she spent a semester interning full time at Kenneth Cole in New York City before returning to campus for her final semester, during which she worked tirelessly to design over 50 pieces to be used in her capstone project—an on-campus spring fashion show.
Scopac emphasizes that she cannot thank her former advisor, Professor Ubertaccio, enough for believing in her vision and giving her the room and support to create a major that helped her get started in fashion.