Volunteer Spotlight
Meet Three Young Alumni Mentors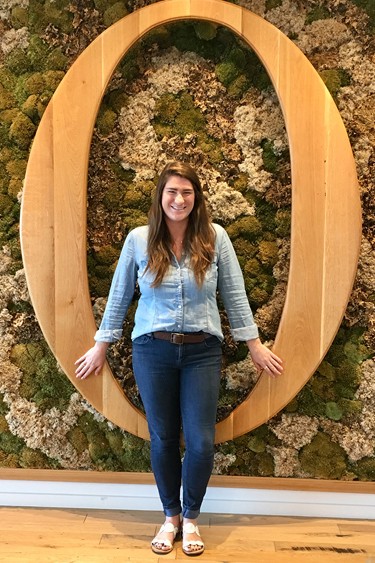 Today, Traca Rafferty '10 is settled in Los Angeles, working as the social media and marketing manager of the Oprah Winfrey Network.
But the Maine native and former communications major remembers all too well how hard it was when she first landed in L.A. seven years ago to work at the E! Network, "not knowing anyone, really, or the town at all."
Rafferty now mentors current students "to give back," she says. "Because Stonehill gave so much to me."
"Coming from the East Coast, I know how hard it can be to break into the entertainment industry," says Rafferty, who has mentored Stonehill students and alumni during brain-picking coffee dates and dinners, phone calls and office tours. "I make introductions and pass along résumés if I can," she says.
A few years ago, over coffee with a Stonehill junior she was mentoring, Rafferty had an aha! moment. "I had the most surreal flashback to my own experience of moving to L.A. I wish that I'd had someone to ask even the littlest questions," Rafferty recalls. "I realized I wanted to be the person people could bounce questions off of—I'd love to be that person."
---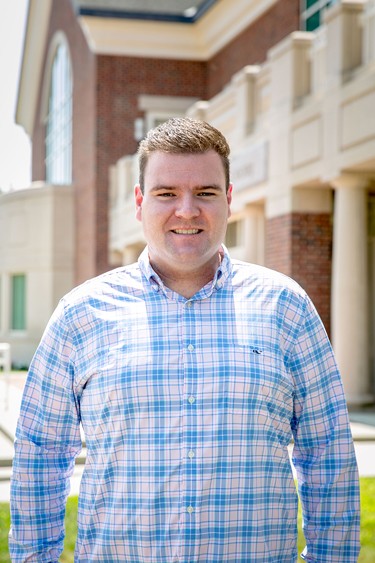 Timothy Culverhouse '14, an assistant site editor at Newton-based TechTarget, also says mentoring Stonehill students is his way of giving back to the community that "helped me become the person I am today".
"I can remember being in their shoes not so long ago," recalls Culverhouse, a mediated communication major. "I try to be as honest as possible and to let them know I'd be happy to help them in their job search in any way I can."
As a student, he found that talking with alumni about their career experiences as well as discovering how they landed their positions and what their day-to-day lives looked like was really important to him. "There are things you don't learn in the classroom," he says.
Aside from taking student phone calls and responding to emails, Culverhouse discussed his experience with students at a Liberal Arts Networking Event on campus last year. He also serves as chair of the WSHL Alumni Board, overseeing alumni involvement with the College's radio station.
---
Katelyn Kelly '09, who serves as chief of staff to the Massachusetts House of Representatives, House Committee on Post Audit and Oversight, says she volunteers to help Stonehill students "as often as they ask me".
Kelly meets with students and alumni at the State House and connects with them through phone calls and emails. She helps with résumés and conducts mock job interviews as well.
The political science major has also spoken to students on campus about her career path, careers in public policy and working for the state. Kelly, who is teaching an American Government and Politics course as an adjunct professor at Stonehill this semester, says she's not only happy to mentor, but she also sees it as her duty.
"I believe in the mission of the College to lead with courage towards a more compassionate world," Kelly says. "And this often means reaching out to those who may be following in your footsteps."
—Lauren Daley '05
---
In Number Order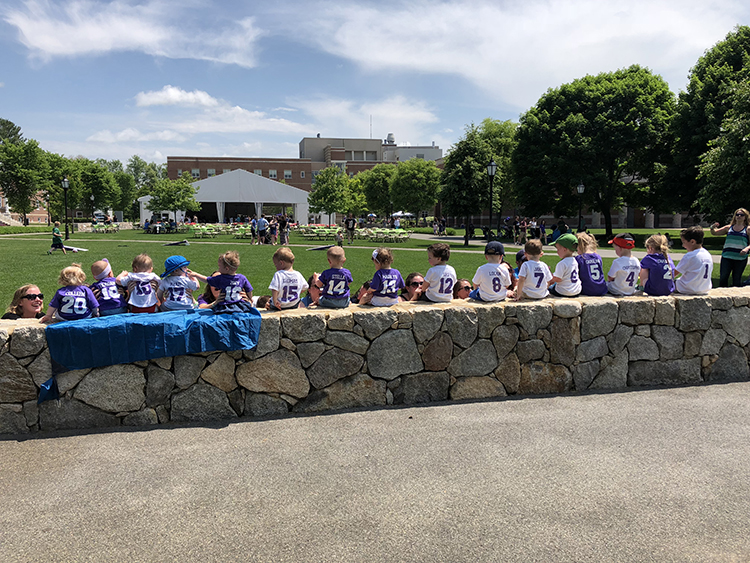 At the Reunion cookout, a group of 2008 alumni not only brought their children, but they also had special T-shirts made for them­. The front proclaimed Stonehill's Next Generation and the back number represented birth order. These future Skyhawks are sitting from youngest to oldest [l to r].
---
8 Upcoming Events
November
18 Alumni Mass of Thanksgiving
30 GOLD Gift Wrap
December
1 Children's Christmas Concert
Holiday Celebration
4 Rhode Island Christmas Reception
11 Washington, D.C., Christmas Reception
12 New York City Christmas Reception
20 Monthly Mass for Alumni Intentions
---
Reunion
May 31– June 2, 2019
Classes of 1969, '74, '79, '84, '89, '94, '99, 2004, '09, '14 and the Pillar Society.
Visit stonehill.edu/reunion for more information.
---
Notepad
Purple Door Business Network
The Alumni Association's Purple Door Business Network is your best resource for finding businesses owned and operated by alumni. With more than 26,000 living graduates, Stonehill has alumni in nearly every industry. The network is searchable by industry and location and includes business descriptions and contact information. Listing a business in the network is available to all alumni. Visit stonehillalumni.org to find or list a business.
Career Mentoring Directory
The Career Development Center and the Office of Alumni Affairs offer a career mentoring directory, housed on the Stonehill Connect site. By registering as a career mentor, students and alumni interested in entering your field will be able to contact you for career advice and career development opportunities. As a mentor, you can choose how you wish to be contacted and how you would like to be involved. To sign up as a mentor or to search for mentors, visit stonehillalumni.org.
Become Educators in the Faith
The Congregation of Holy Cross Priests and Brothers is an international community dedicated to educational, pastoral and social ministries. For vocations, contact Rev. Tim Mouton, C.S.C. at 574-631-6385 or at tmouton@holycrossusa.org. Visit holycrossvocations.org.
---
Alumni Day 2019
Save Saturday, February 2.
Open science labs hosted by faculty for children of alumni
A winter carnival, including a Barn Babies petting zoo
A cook-off
Craft beer tasting
Basketball games
And more! Details forthcoming at stonehill.edu.
---
Alumni Intentions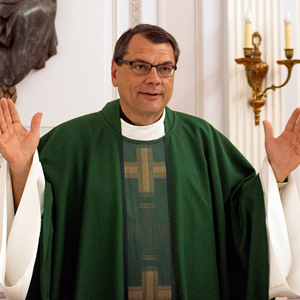 The death of a friend from college can be a difficult loss for alumni. In grieving for their former roommate or classmate, alumni often feel the pull of campus, a desire to be back where a great friendship was formed and to remember it with prayer.
One way in which Alumni Chaplain Rev. Anthony Szakaly, C.S.C. provides for that spiritual need is with the Monthly Mass for Alumni Intentions in Our Lady of Sorrows Chapel, located in Donahue Hall [top], at 8 a.m. on the third Thursday of every month.
When the Alumni Office learns about alumni deaths, they contact the family of the deceased and alert their classmates, and at the next Monthly Mass of Alumni Intentions, Fr. Szakaly prays for those who have passed. In August, for example, he remembered eight recently deceased alumni as well as four deceased relatives of alumni. Those who live locally are always welcome to attend the Monthly Masses.

Linked with History
"We have a beautiful chapel in the College's defining building. As a location for our Monthly Mass for Alumni Intentions, we could not ask for better, as it is linked so closely with our history. For alums, being there is akin to being home," notes Fr. Szakaly.
Over the years, Our Lady of Sorrows Chapel has undergone renovations to make it a brighter and more welcoming place for spiritual reflection and for celebration of the Holy Eucharist.
Prayer Request

With Thanksgiving approaching, another option available to alumni who want to remember a deceased classmate or loved one, or for those who want to request prayers for themselves or for others dealing with life challenges, is to submit a prayer request to Fr. Szakaly.
When he celebrates the annual Alumni Mass of Thanksgiving on Sunday, November 18 at 7 p.m. in the Chapel of Mary, Fr. Szakaly will pray for those intentions at the Mass. If you live locally or will be visiting the area, you are welcome to attend the Mass.
Every year, close to 1,000 alumni send intention cards to be prayed over at the Mass. Intention request cards will be mailed to all alumni but if you have misplaced your card or need another one, email alumni@stonehill.edu.
---
Christmas Events
One of the highlights of the year for children and grandchildren of alumni is the Alumni Council Programming Committee-sponsored Children's Christmas Concert [middle], which is followed by a visit from Santa Claus. For more on this year's event, which will be held on Saturday, December 1 at 2 p.m., visit stonehillalumni.org/childrenschristmas2018.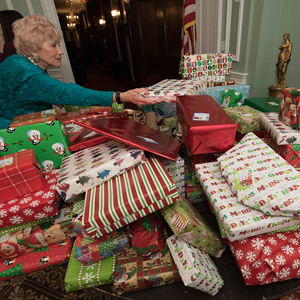 Another popular Christmas tradition at Stonehill is the Gift Wrap Party, sponsored by the Alumni Council Graduates of the Last Decade (GOLD) Committee, which will be held on Friday, November 30 in Donahue Hall at 6:30 p.m. Alumni volunteers, along with their families, gather to collect and wrap presents [bottom] for children in need. All are welcome. For details, visit stonehillalumni.org/giftwrap2018.
For information about any of these events, email alumni@stonehill.edu.