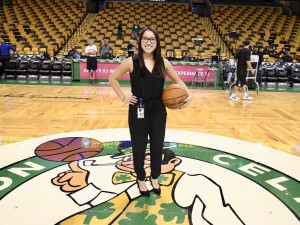 More Than an Interest in Sports
Stonehill's Sport Commerce & Culture program applies an interdisciplinary approach to examining the world of professional sports. The end game is a command of analytical and critical thinking skills that students can apply in a host of fields.
Read More
Sports has a prominent and growing place in U.S. popular culture and imagination. It has become the subject of academic study across a wide range of disciplines, both as a distinct area of study and one in which it serves as a vehicle to illustrate and explore theories. Students choosing this minor will have the opportunity to study the industry through disciplines that include economics, psychology, marketing, management, data science, and religious studies, among others.
Internship Opportunities
With its location near Boston—one of the country's most successful sports cities— Stonehill provides its students with a vast array of internship opportunities in professional sports.
Celtics
Revolution
Patriots