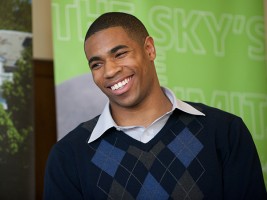 A Criminology major and Business minor from Westampton Township, NJ, Lanier has demonstrated a commitment to scholarship that exemplifies the habits of mind that Stonehill seeks to help students cultivate.
"He is a delight to have in class, not only for his smile and charisma, but because one can always count on him to be prepared and help spur discussion," said Assistant Professor Ann Marie Rocheleau, Ph.D.
As a student, Lanier has taken full advantage of the many opportunities that have been made available to him at Stonehill and has sought out opportunities of his own.
"His intellect and strong work ethic were important factors in his success as an intern with the United States Marshals Service, and those qualities have resulted in James being offered a position as a police officer with the Providence Police Department," said Professor Rocheleau.
"It's unheard of for a Criminology student to start a law enforcement career prior to graduation."
Selected Activities & Achievements
Edwin Sutherland Criminology Honor Society
Dean's List (3 Semesters)
Capital One Academic All-District I first team honors
NE-10 Academic All-Conference Honors
NE-10 Commissioner's Honor Roll
Athletic Director's Honor Roll
National Football Foundation National Scholar-Athlete Nominee