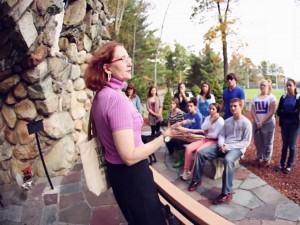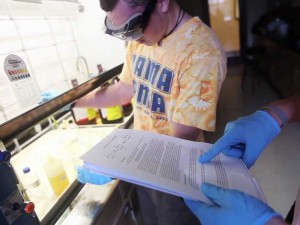 "Stonehill helps you cultivate all your academic talents, your social skills; it's kind of like you get your tool kit here. You build your own skills."
Elveera Lacina '16
If you think you know what to expect in a Religious Studies class, Associate Professor Mary Joan Leith would like you to think again.
"You get a moment to stop and reflect on other people's beliefs, and why they believe what they do."
-Robert Olberg, Class of 2014
Taking full advantage of Stonehill's diverse liberal arts offerings, Religious Studies is an interdisciplinary program that embraces virtually all aspects of human experience as expressed in history, art, literature, social organization, politics, scientific exploration and ethics.
In the Catholic tradition of the quest for greater understanding, the Religious Studies Major helps students develop critical appreciation of their own traditions and those of others.
Exploring Religion's Role in Society
Stonehill College introduces students to the study of religion through a First-Year course required as part of the College's General Education curriculum. Students pursuing any major may also explore specific topics in the study of religion in a variety of Learning Communities and Moral Inquiry courses.
Majors and minors in Religious Studies rigorously dissect an array of compelling human questions, the distinctive beliefs and practices of religious people across cultures and the various roles that religions play in society.
As they advance through the program, majors will select courses and a senior thesis topic that accord closely with their specific interests in Religious Studies, such as:
Ancient religions
Biblical studies
Religion in the modern world
Religion and gender
Comparative religious ethics
Related Pages