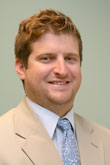 Over the last two decades, Canton-based Medical Information Technology Inc. (MEDITECH) has hired more than 100 Stonehill alumni.
What's more, Senior Recruiter Greg Clarkin '01, who is responsible for MEDITECH's college recruiting, is doing his best to see that number grow and to strengthen the ties between the College and the company.
According to Christina Burney, the College's associate director of Career Services, Clarkin and his team are doing a stellar job of reaching Stonehill's students.
"MEDITECH is on campus constantly," she says. "They staff a booth at the career fair, do mock interviewing and participate in career information nights. They do a lot to build a brand among seniors. And they do love our Healthcare Administration students."
The company, which started in 1969 with a handful of employees, now employs nearly 4,000 people with offices in Canton, Westwood, Norwood, Framingham and Fall River. And federal healthcare reform, with its emphasis on electronic medical records – MEDITECH's specialty – means the forecast ahead is bright.
"We have a modest plan for consistent growth," says Michael Malone '91, associate vice president of development and a 20-year employee. "And it's meaningful work. Everyone, at some point, interacts with a hospital. What we do gives healthcare providers more time for hands-on patient care, which everyone can appreciate."
MEDITECH, however, hires more than just Stonehill healthcare administration graduates. Clarkin notes they also employ those with degrees in computer information systems, biology, and English, to name a few.
"We want graduates with strong communication skills, both written and verbal, who can also get up and speak in front of people. Those are precisely the kinds of skills people get from a liberal arts education," says Clarkin. "We know we can train people on our software."
Another long-time employee, Mike Vinson '90, sees similarities between Stonehill College and MEDITECH. "Both are very busy, energetic places, with lots of smart, ambitious people," he notes. "Both are relatively young, have grown tremendously, and are in a position of strength. Both are stable, consistent places."