Look into one of the art studios at Stonehill College on a Tuesday and you will see that knowledge and leadership skills sometimes develop while sitting cross-legged on the floor with fingers and faces flecked with brightly colored acrylic paints.
That's certainly the case in "Mentoring Through Art," a Learning Community pairing Stonehill students with sixth graders from West Middle School in the neighboring city of Brockton, many of who could benefit from having a role model in their lives.
When the children visit Stonehill, the LC can look more like a diversion from rigorous academics than an opportunity to put into practice newly developed knowledge in art, sociology, health, education and leadership. But, like the marigolds and geraniums that emerge from the children's seemingly random brushstrokes, the impact of this endeavor becomes clearer with time.
Deeper understanding from multiple perspectives
Learning Communities at Stonehill link classes from two academic departments and approach issues from perspectives unique to those disciplines. In "Mentoring Through Art," students take a Sociology class on juvenile delinquency and a Visual & Performing Arts class on the power of art as a social catalyst.
That power is evident in "Photography/Multimedia Outreach" class, the arts component of this LC taught by Professor Adam Lampton. The painting, photography and videography projects done in his class are a creative distraction that fosters deeper interactions between the Stonehill students and the middle school children. The children are often tentative at the beginning. But then the work begins, words of encouragement are offered and you see smiles bloom on their faces and hear a growing patter of conversation as the young artists pepper their mentors with questions about life at college. "In a sense this class is the Stonehill educational philosophy in practice," says Lampton. "We are not simply educating our students, we are asking them to reach out and use their skills and compassion to change the world."
A shared journey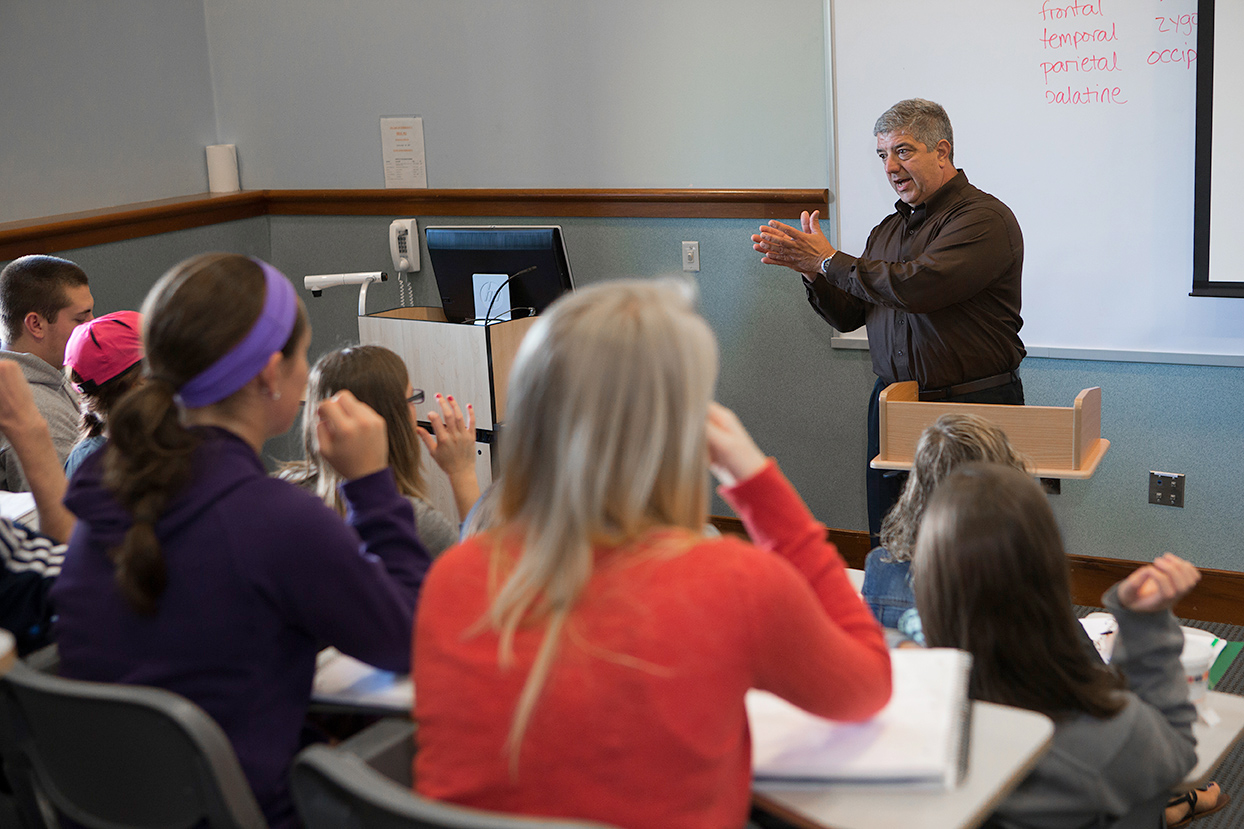 The bond is deepened by the fact that most of these students don't consider themselves artists. "That changes the whole dynamic," says Professor Edward G. Jacoubs, who teaches the LC's Sociology component. "Now it's less about me teaching you and more about us learning together." Sarah Figalora, a senior double majoring in Psychology and Criminology, said one of her favorite moments in the LC was a kite building activity that she and her mentee both found frustrating. The girl had been quiet and reserved with Figalora but when they final built one that would fly, it was a breakthrough. "For the first time ever I saw my mentee laughing," she remembers. "For the first time I felt like she was really opening up to me."
West Middle School teacher Laura Cronin says such connections are important for West students who are mentored at Stonehill, which include children in this LC and another group in an art class taught by Professor Candace Walters. "These are kids who may not always have people in their neighborhood who they can connect with as mentors," said Cronin, a 2008 Stonehill graduate herself, adding that the contact with college students gets them thinking about college for themselves. Lafayette, one of the sixth graders, confirms that. "I like that we explore," he said as he dabbed splotches of orange and yellow onto a tree he painted this fall. "We get to see a lot of the campus."
'A good way to find yourself'
Stonehill students in the LC are learning not only about sociology and the power of art. They are also discovering things about life and about themselves. "It's good to be doing something you don't normally do with people you don't usually interact with," said James Basler, a sophomore Criminology major. "This is really special. For a lot of people at Stonehill, it is eye-opening. It's a good way to find yourself."
Jacoubs says the LC works on so many levels for the College, the students and the children. "We forget that there are all those other kids who get overlooked," he says. "They're trying to do the right thing. Their parents are trying to do the right thing. They just need somebody else. That's what it's all about. Nobody's asking you to change the world. Just be present in someone else's life. I think that's what Stonehill is all about."