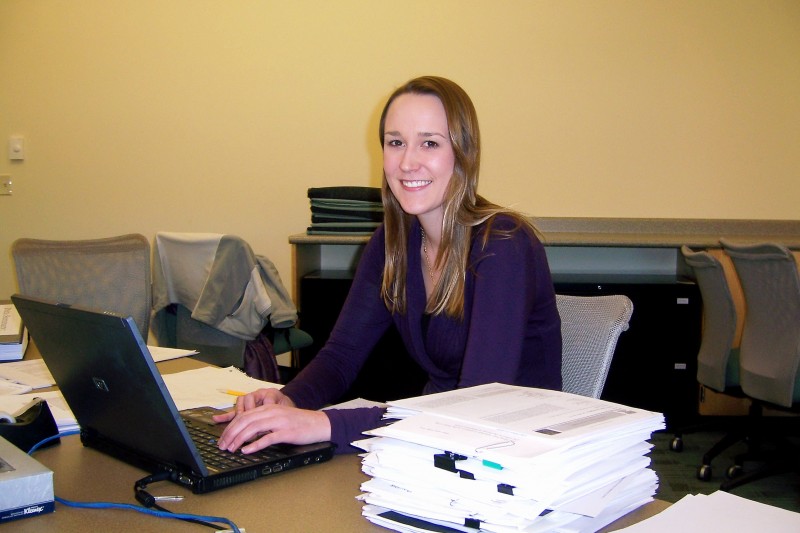 Georgia Winters '13 never missed an opportunity to explore the world of psychology while she was at Stonehill and her commitment is gaining attention in professional circles.
In recognition of her exemplary record in the field, the New England Psychological Association has named Georgia as an Honorary Undergraduate Scholar.
"She was a unanimous selection as the 2013 Psychology Student of the Year and the New England Psychological Association confirmed the excellence of one of Stonehill's finest," said Psychology Professor Bonnie Klentz.
To be considered for NEPA honor, a student must be nominated by two faculty members and have an outstanding record of research experience, applied experience, service to the department and high academic achievement. Professor Klentz and Psychology Professor Jane Nash both nominated Georgia.
Georgia, who came to Stonehill from Bristol, Vt., collaborated with Professor Klentz on research examining the impact of viewing forensic crime dramas on jury decision making. The two presented their findings at the 2013 American Psychology-Law Society Annual Conference and continue to collaborate on a manuscript based on this research.

"The Psychology Department at Stonehill allowed me to discover my passion for research," said Georgia. "They provided me the education and experiences necessary to continue on the road to my dream career."
Under Professor Nash's supervision, Georgia completed a senior research thesis titled "I Knew It All Along: Identifying Sexual Grooming Behaviors of Child Molesters," which they presented at the New England Psychological Association's fall meeting. Her applied experience included a two-semester internship at Taunton State Hospital, an internship at the Domestic Violence Unit in the Brockton District Court, volunteer work with the Big Sister/Big Brother program and providing child care at a domestic violence shelter.
"Georgia is everything we hope for in a student. She excels in every environment--in the classroom, in the research lab, and in the community. We are thrilled to see her honored for her hard work as an undergraduate and look forward to following her career in forensic psychology," said Professor Nash.
A double major in psychology and criminology who graduated summa cum laude, Georgia also held leadership positions in Psychology Society and was the editor of the department newsletter. She excelled in the classroom, being named to the dean's list every semester and invited to join Lambda Epsilon Sigma, Stonehill's honor society, and Psi Chi, the Psychology honor society, during her junior year.
Georgia is currently pursuing a doctorate in Forensic Clinical Psychology at the John Jay School, CUNY and aspires to be a forensic psychologist performing psychological evaluations for criminal defendants.