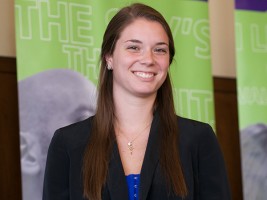 A Physics major and Mathematics minor from Brick Township, NJ, Horan has demonstrated a commitment to scholarship that exemplifies the habits of mind that Stonehill seeks to help students cultivate.
"Ashley is simply brilliant, a student with rare qualities. As a teacher it is my pleasure to deal with her as a student and as an individual. I have to admit that with her intuitive understanding of Physics, sometimes she lets me feel better at my job than I really am," says Alessandro Massarotti, associate professor of Physics.
"Ashley is also a very giving and socially gifted person. She often helps and tutors students, even from courses other than the ones she is officially involved with. She is a beam of light that shines with enthusiasm and intellectual curiosity, a leader and an example to follow for other students. A person with a great future ahead of her."
As a student, Horan has taken full advantage of the many opportunities that have been made available to her at Stonehill and has sought out opportunities of her own.
On her plans for this summer, Horan says, "I was just awarded a summer internship at the NASA Goddard Space Flight Center in Greenbelt, Md., where I will work with Dr. Conor Nixon on ways of modeling and detecting the atmospheres of planets orbiting other stars. I plan to continue schooling and work at NASA as a full-time employee someday!"
Selected Activities & Achievements
2014 Summer internship with NASA at Goddard Space Flight Center researching the atmospheres around exoplanets
Independent Research with Professor Alessandro Massarotti of Stonehill regarding liquid flow through the Earth's mantle
Independent Research with Professor Massarotti and Dave Latham of Harvard on a project looking for a third companion in the Sirius binary system
Teaching Assistant for physics 1, 2, 3, 4, and Statistical Physics
Independent physics tutor