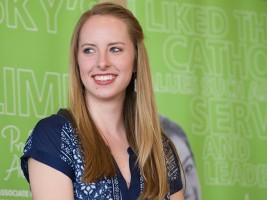 A Neuroscience major from Southwick, Mass., Birchall has demonstrated a commitment to scholarship that exemplifies the habits of mind that Stonehill seeks to help students cultivate.
"Courtney's academic achievements speak for themselves," says Professor John McCoy, director of the Neuroscience Program.
"What I find most impressive is her leadership and commitment to service and social justice issues. In Chile, she learned about the challenges of practicing medicine in a developing country by interviewing health care professionals in Spanish. As Student Director of the Into the Streets Program, she was equally committed to service locally."
Birchall has taken full advantage of the many opportunities that have been made available to her at Stonehill and has sought out opportunities of her own.
On her postgraduate plans, Birchall says, "After I graduate I will be attending medical school. I have been accepted into seven programs but have yet to decide where I will attend!"
Selected Activities & Achievements
3.94 GPA
Dean's list – all semesters
Award for Excellence in Second Year Chemistry, 2012
Teaching Assistant – Organic Chemistry I and II
Spent six months in rural Chile working with health care for indigenous peoples
Conducted research on the neurobiological basis of schizophrenia as a SURE Scholar, 2012
Into the Streets Student Director, 2013-2014
Into the Streets Student Coordinator, 2012-2013
Volunteer: My Brother's Keeper, Brockton Veterans Affairs Hospital