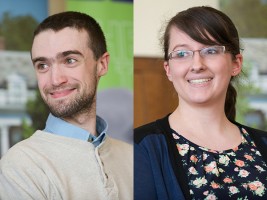 "Throughout their time at Stonehill, both Samantha and Sean have exemplified the ideals of the History Department's Thomas J. Clarke Award," says John Rodrigue, Lawrence and Theresa Salameno Professor of History.
"They have combined the commitment to academic excellence that is essential to a liberal arts education with the engagement with the wider world that is central to Stonehill's mission statement."
Smith, a History and Political Science double major from Whitman, Mass., investigated changing consumer patterns in three Massachusetts counties from 1790-1830 as a Stonehill Undergraduate Research Experience (SURE) Scholar, and was co-instructor for a course called "Nerd Culture: The Historical and Sociological Relevance of Comic Books & Video Games."
A History and Religious Studies double major from Rowe, Mass., Scanlon's primary area of study is the history of U.S. foreign relations in the 20th century.
"Sean fully embraces the life of the mind," added Shane Maddock, professor of History. "What we do in the classroom merely whets his appetite to learn more about the subject and he then explores the topic on his own. His preparation and thoughtfulness often prove contagious and enliven the discussion among his peers."
Scanlon, whose interests also include Irish history, the history of the Roman Catholic Church and ancient Greek and Roman history, plans to study American history in graduate school.
On her postgraduate plans, Smith says, "I have been applying for research assistant positions at universities in the Boston area and for assistant positions at think tanks and agencies both in Boston and in Washington, DC. I hope to go to graduate school after gaining some work experience."