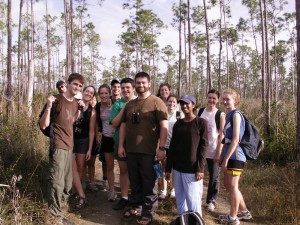 For Trish Godio '09 (pictured: third from left), a career in Massachusetts politics began in a South Florida swamp.
Camping in the Everglades National Park among the snakes, rare birds, alligators, and inevitable trash that works its way into the fragile ecosystem, Godio and her fellow students were personally confronted by the problems human development poses to the natural environment.
Back on campus, before their tans faded, they were asked to reflect on their meetings with Florida park rangers and environmentalists and do nothing less than design a more sustainable South Florida – considering climate change, community, culture, water, energy, and urban planning. It was a daunting task, but they did it.
The Everglades opened Godio's eyes to environmental issues. She ultimately wrote her senior thesis about the privatization of the water supply in certain parts of the world – a problem that causes farmers to lose access to irrigation water because corporations buy the rights to bottle and sell the water. She was the first person at Stonehill to raise awareness of this issue.
The Activism Club, along with members of the Environmental Stewardship Committee including Mooney, took up the cause after she graduated. They convinced the college to stop buying bottled water and implemented a plan to increase access to tap water. Godio currently works in the Brockton Mayor's office in the youth promise division.