Scott Cohen,

Department of English
Scott Cohen, associate professor of English, agrees that Stonehill encourages innovative teaching methods and using technology to its greatest advantage.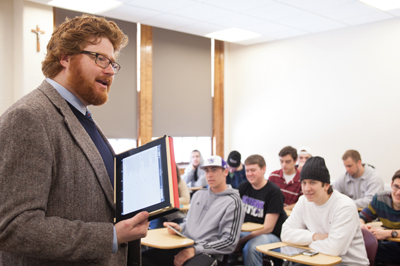 In 2010, Cohen was teaching Storytelling in the Age of Information and was interested in trying out Apple's newest device. With the iPad in its infancy, the Center for Teaching and Learning took a chance on Cohen's vision and provided a grant to test three iPads in his class. Students used them to listen to and record audio clips, annotate transcripts from public radio shows such as This American Life, and share what they'd learned.
"I've always felt the iPad is a transformative device that allows students to engage with text on a different, deeper level," Cohen says. Today he uses iPads in an even more integrated way for Island Living/Island Leaving, a course that explores the role of islands in narratives.
Like Professor Boyle, Cohen was awarded a FIT grant, so each of his students has an iPad on loan for the semester. Recently students were asked to read an excerpt of Robinson Crusoe using the iBooks e-reader app on their tablets. Cohen then asked what they thought Crusoe's college major might have been. "They had to tweet their answers using a Twitter account I set up for the course," he explains. "It was a great way to get them thinking about the character and to set up our next class discussion."
When his assignments are longer than Twitter's 140-character limit, Cohen also uses the social sharing website Tumblr, where students can comment on each other's posts and build content-rich topic threads. "In both cases, with Twitter and Tumblr, it makes their engagement public within the discursive community of the course. In some small way, it replicates the dialogue that we try to create in class – and extends their engagement with the material."
Last year, Cohen's teaching methods caught the attention of the popular blog MindShift, which focuses on technology and the future of learning. At the same time, Apple was looking to improve its iTunes U online catalog of free educational content and contacted Cohen.
In the past, iTunes U had been largely used as a place to post videos of academic lectures, but Apple wanted to broaden its interactive potential and was particularly interested in offering more humanities courses online. "It seemed like a good opportunity to show the world what kind of interesting work we're doing at Stonehill as well as to engage in a more public conversation," Cohen says.
In January, Island Living/Island Leaving was the first Stonehill course to be offered on iTunes U, attracting more than 8,500 free downloads in its first two months online. Cohen regularly gets emails from subscribers worldwide and was recently designated as an Apple Distinguished Educator. He also uses a private iTunes U version of the course for his Stonehill students, making integration with the iPad technology seamless.
Cohen is optimistic about the prospect of using innovative tools to deepen student engagement with literature and culture and as something that becomes durable and sustainable over time. "The technology is useful, but the act of thinking through how I'm using technology in itself has made me come to these courses with a whole new, fresh perspective," he says. "It has invigorated my teaching because it forced me to think about what I am doing all over again."
To be reflective about what is being taught, to look for new vehicles that allow students to communicate, engage and create; Cohen says, "are only good things."