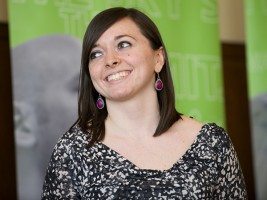 An English and Graphic Design double major from Warwick, R.I., Robinson has demonstrated a commitment to scholarship that exemplifies the habits of mind that Stonehill seeks to help students cultivate.
"Ashley's incandescent combination of intellectual curiosity, patience with the intricate work of critical analysis, elegant writing, and wide-ranging interest in forging creative connections across disciplinary boundaries embodies the values and practices that we foster in the English major and at the College more generally," says Associate Professor Jared Green, chair of the English Department.
"It has been our honor to teach such a remarkable student and it will be exciting to see where her emerging interest in integrating creative writing, typography, and dance will take her."
As a poet, scholar and graphic artist, Robinson has taken full advantage of the many opportunities that have been made available to her at Stonehill and has sought out opportunities of her own.
On her post-graduate plans, Robinson says, "I plan to begin post-grad life by working as a freelance graphic designer and completing a year of service, most likely for an organization that works to alleviate homelessness. Eventually I'd like to attend graduate school for interdisciplinary studies in literature and graphic design."
Selected Activities & Achievements
Member of the Sigma Tau Delta English Honor Society
Member of Lambda Epsilon Sigma Honor Society
Member of the Moreau Honors Program
Teaching Apprentice: "Wonderlands" (with Professor Laura Scales), "The Importance of Being Irish" (with Professor George Piggford), and "The Imaginary Primitive" (with Professor Jared Green)
Hertford College of Oxford University: Studied 20th Century Poetry (major) and Chaucer (minor), Fall 2012
English Society: Held positions of treasurer, vice president and co-president, 2010-present
Greater Boston Intercollegiate Undergraduate Poetry Festival: Represented Stonehill, 2012.
Undergraduate Literature Conference: Presented scholarly work on gender and sexuality in medieval and Victorian literature, 2013 and 2014
Cairn: Contributor, co-editor, and graphic designer, 2010-present
Rolling Stonehill: Writer and contributing graphic designer, Fall 2013