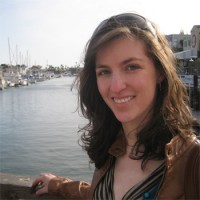 Nicole Jaques' dreams were riding on one phone call and with memories of what had happened the previous year she needed to know how to the conversation was going to go before it even started.
The importance she attached to this moment showed how much she had changed in the three years she had spent at Stonehill College. "I have always been ambitious but when I entered Stonehill, I was completely undecided on what I wanted to do for my career," she recalls.
Jaques credits Angela Paradise, assistant professor of Communication, with helping her find a focus. After taking a Mediated Communications class taught by Paradise on a whim her first year, Jaques says she fell in love with the curriculum and realized she could make a career that would incorporate her love of children and education with her newfound interest in the media.
Paradise encouraged Jaques to apply for the highly competitive International Radio and Television Society Summer Fellowship Program, which provides hands-on experience at New York's top media corporations. Paradise herself had won a spot in the program 10 years earlier and told Jaques it was an experience that continues to guide her. The only wrinkle was that Jaques wasn't eligible to apply until junior year.
Meanwhile, Jaques was immersing herself in the opportunties than can make Stonehill such a broadly enriching experience. She played on the school's beach volleyball team and founded Surround Sound, the first and only co-ed a cappella group at Stonehill. By the time junior year came around, when it was time to apply for the IRTS program, she had already gained experience through two internships with Boston's WGBH.
Her preparations, unfortunately, were not enough. Facing competition from more than 1,000 applicants, she was passed over for one of the coveted 16 spots in the program. But that only steeled her resolve.
The next year, Paradise helped guide her through the process again. This time Jaques made it through the first two rounds and was preparing for the final stage: a phone interview with program organizers. By this time, Paradise was on maternity leave and only days away from delivery. But she took the time to go over possible interview questions with Jaques as well as phone-interview strategies. It worked. Jaques spent her final semester in New York interning at Nick Jr. on the popular children's show "Dora the Explorer."
"The fact that Nicole was selected among over a thousand applicants for one of the coveted 16 IRTS spots speaks volumes in terms of her academic successes, career potential and character," says Paradise.
Jaques is now a production assistant at Disney ABC Television Group in Los Angeles. She says her ultimate goal is to create and produce her own children's television show or direct children's programming for a major network.
"I want to harness the power of entertainment and use it to educate children in more ways than just letters and numbers."