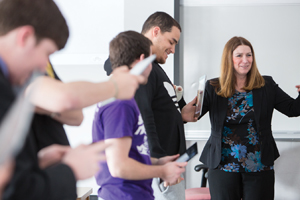 On a rainy afternoon in February, students file into Maureen Boyle's Advanced News Writing and Reporting class. Boyle, who serves as the director of the Journalism program at Stonehill, stands at a tech-equipped podium, pulls up a web browser on a large screen and navigates to her YouTube channel.
"Take out your iPads," she announces.
All eyes are on the front of the room as Boyle plays videos from the scene of a fatal fire. The clips include general surveillance along with interviews with the fire chief and an eyewitness. Students frantically take notes until Boyle stops the videos. "You have five minutes to file your story from your iPads," she says, "three paragraphs. Go."
Tapping away on their tablets, eyes never leaving their screens, students ask questions. Boyle answers some; to others she responds, "We don't know." As she walks around the room, looking over the shoulders of anxious would-be reporters, Boyle gives encouragement and advice.
"Good active word," she tells one student.
"Stick to the facts," she warns another.
"Don't forget AP style."
Once students have "filed" their story by emailing it to Boyle, there is a collective sigh of relief. Until she tells the group, "Your editor wants a more detailed story up on the web in 20 minutes."
Boyle worked at newspapers around New England for more than 25 years before joining the Stonehill faculty, first as an adjunct professor and then permanently in 2010. A three-time New England Press Association Journalist of the Year with several regional and national awards to her credit, Boyle strives to bring her real-world experiences into the classroom. In journalism today, that means introducing students to the latest technologies for reporting and distributing news.
Several years ago, Boyle began integrating technology into her introductory journalism courses. "Students could shoot video with whatever they had – a cell phone, camera, even their laptops – and post their stories to Blogger. But I got the idea that there must be a more uniform way to complete these assignments," she says.
Working with Stonehill's Department of Information Technology and Jan Harrison, who is the manager of Instructional Technology, Boyle was awarded a Faculty Initiatives in Technology, or FIT, grant to provide loaner iPads for the Advanced News Writing and Reporting class. Students use the tablets for research, notes, shooting and editing video in iMovie, and live tweeting as well as simulations of stand-ups in the field using FaceTime. Stories are posted to Blogger, WordPress, YouTube and a newer social network called Storify, which allows students to curate and build stories pulling together content across social media. For example, when winter storm Nemo raged through the area in early February, Boyle asked students to post to a Storify page using a Twitter feed for immediate updates.
"In journalism it is important to stay abreast of how people are gathering information, how they are getting the news," Boyle says. "We want to make sure students know how to present information in a way people want it. We're looking for ways to bring stories alive."
Boyle has shared her experiences at ITC faculty showcases and, along with Communication Professor Jack Jackson, serves as a faculty technology liaison to Stonehill's Department of Information Technology. "They are very supportive and always looking for the next step so that students and faculty aren't left behind," she says of her IT partners.
Boyle feels providing a technological skill set is a necessity for journalism students, as well as for those studying a variety of disciplines across the College. "Students expect technology, they expect visuals. They need to be familiar with what they'll be facing in the real world."