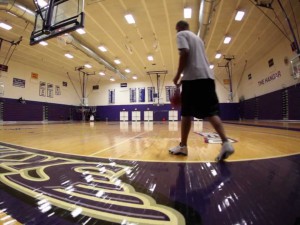 "One of Stonehill's advantages is leveraging the relationships you build as a student."
- Marquis Taylor '06, Communication major
"Stonehill is an exploration school," he explains. "It allows you to explore and check off those things you are not good at so you can find out how to succeed, how to win."
A native of Los Angeles and a member of the Stonehill Skyhawks basketball team, Marquis took advantage of the many academic options at Stonehill by taking classes in communications, accounting, and finance. While working with children at the Brockton YMCA as part of a Capstone project, Marquis began to mold his convictions about social responsibility.
"It was a fulfilling moment for me," he says.
After graduation, Marquis pursued a career in finance, serving the urban and low-income sector. He used the Career Services Center and tapped into Stonehill's alumni network.
"One of Stonehill's advantages is leveraging the relationships you build as a student," Marquis says. "By reaching out and meeting people, learning from their experiences, it prepares you for the next step – whatever that might be."
After earning a master's degree in teaching, today Marquis is the founder of Coaching for Change Inc., an organization that empowers teens from disadvantaged backgrounds by training them to coach youth sports.
For his efforts, Marquis was recently awarded a prestigious fellowship from Echoing Green, a philanthropic organization that supports social entrepreneurs who launch programs for positive change.
"We model behavior that our participants can then use to mentor through coaching,"
Marquis says. "We use sports to teach something bigger."